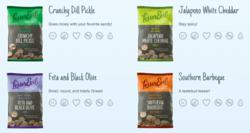 Wilton, CT (PRWEB) November 26, 2012
LesserEvil Healthy Brands, a nationwide healthy snack food company, announced the debut of Black Bean Chia Crisps, scheduled to hit stores in January. A black bean flour mingled with milled Salba chia create the chip base, Chia Crisps come in four unique flavors: Crunchy Dill Pickle, Feta and Black Olive, Jalapeno White Cheddar, and Southern Barbeque.
"Chia is gaining a lot of recognition for it's nutritional profile, so we are excited to bring this healthful seed to our loyal snackers," said Charles Coristine, LesserEvil Healthy Brands President and CEO. "Chia has been a staple in my family's pantry for quite some time and after a year of negotiating with our mill, we can finally bring it to the tables of our customers."
Black Bean Chia Crisps contain greater amounts of protein and fiber than found in the traditional chip because of the black bean and milled with Salba® Chia—a chia seed grown with selective breeding, which yields a a more nutrient-dense seed. Salba® Chia seeds are a rich source of Omega-3 fatty acids, dietary fiber, minerals, Vitamin C and antioxidants.
LesserEvil Healthy Brands, founded in 2004 and headquartered in Wilton, CT, provides snack products in the health food sector. Their products include Krinkle Sticks, Kettlecorn, and Chia Crisps. Partnered with Autism Speaks, LesserEvil donates ten-percent of its profits to Autism Awareness.