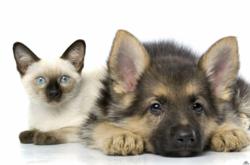 Center Pet Pharmacy - Pioneers with standards above and beyond prevailing market standards
Rockville, MD (PRWEB) November 27, 2012
Center Pet Pharmacy - A pioneer in bringing veterinary medication to pharmacies throughout the US is seeing exponential growth. This innovative idea of bringing pet medication to the pharmacy by CEO and President of Center Pet Pharmacy, Kenny Kramm, has led a major breakthrough in the market. Pet owners not only will have access to pet prescriptions at much lower prices but will also get compounded pet prescriptions professionally made that abide by the strict regulations laid down by NABP (National Association of Board of Pharmacies). Each prescription is tailored to the needs of each pet and is not mass produced. As a company committed to animal health, Center Pet Pharmacy has standards that go above and beyond prevailing market standards.
Center Pets, goal is to improve animal health. With this goal in mind Center Pet has created flavored medications and treats for pets. This pharmaceutical flavoring system is used by pharmacists and veterinarians nationwide to improve the palatability of over-the-counter liquids and prescription medications. Flavors include Chicken, Bacon,and Salmon to name a few. The flavors are non-allergenic and free from dyes, sugar, phosphate, sodium, gluten, casein, and alcohol, making them safe for all vet medications and treats.
Center Pet Pharmacy brings veterinary medications from multi-national and US-based pharmaceutical companies to the local pharmacies. Each veterinary medication can be tracked down to the source and type of ingredients used, making sure that pets receive the same quality of health assistance as human-grade medications. In the wake of much concern due to potential sources of contamination, local pharmacies need to use the right vendor.
According to the American Pet Product Association, 62% of homeowners own pets, which equates to 72.9 million homes. In 2012, vet medicine constituted about 23% of total expenditures of veterinary products, equating to $12.56 billion. According to Prashant Sareen (BS, MBA, HT), Director of Business Development and Marketing, by 2017, the expenditure on veterinary products in the US market should total nearly $65 billion. Taking these facts and figures into consideration this is a huge growth area and the right time for local pharmacies to enter the veterinary medication business and to join hands with Center Pet Pharmacy, which has been in the pharmacy business for almost 50 years. No matter where the pharmacies are located in US, Center Pet Pharmacy will help build their infrastructure.
Attributes of Center Pet Pharmacy:
1) More then 2 million prescriptions including almost half a million compounded medications, have been dispensed without a single error.
2) A Vet VIPPs certified pharmacy, which is the highest certification available to any pharmacy.
3) Has been a member of APHA for over 45 years.
How do pharmacies benefit from starting a veterinary pharmacy business?
1) Number of customers visiting store will increase, leading to increased ancillary sales.
2) The pharmacies which bring in the veterinary business now will be able to create a brand image in the minds of their customers as a pet friendly pharmacy.
3) The increased prescription business is not regulated by insurance companies.
4) Pharmacies can increase customer base from their existing customers and also new customers.
How do Veterinarian's benefit?
1) More time on hand to examine the pets rather than making up compounded prescriptions.
2) No money tied to the inventory and peace of mind of not losing the invested money if the medicine does not sell.
How do pet owners benefit from having a vet pharmacy business near them?
1) Pet owners get professionally compounded medication which would meet the stringent standards laid down by NABP.
2) Picking up medication for their pets would be as easy as picking up their own medication.
3) Pet owners can order medicines directly from their own pharmacy.
It's a win - win situation for pharmacies, veterinarians and pet owners. This is the right time to turn this opportunity to advantage. The facts, figures and trends all point in a direction of this unexploited gold mine which can lead to huge success in the future.
For further information please call 1888-260-0801 (toll free) / 301-875-3132 __title__ Center Pet Pharmacy's blog]