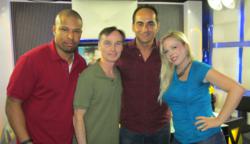 I truly enjoy AfterBuzzTV Homeland AfterShow as much as I enjoy Homeland.
Los Angeles, CA (PRWEB) November 22, 2012
Homeland's Navid Negahban made an appearance on AfterBuzz TV's Homeland edition on Sunday night. Negahban, who plays TV's most popular villain, Abu Nazir, was invited on the network to discuss his perspective on Homeland. Negahban talked about the complex nature of the characters, the concerns he had about portraying a terrorist and the possibility of a Homeland spinoff.
Negahban gave his opinion about the relationship between Nazir and Brody. While many fans think Brody is a pawn in Nazir's scheme, Negahban clarifies that his character does care about Brody.
Negahban says, "Abu sent one of his own brothers to a suicide mission. It doesn't matter how much he loves his brother, but the mission was there and he had to go...As a character, the way that I'm looking at it, Brody has kind of taken the place of the brother."
Although Negahban was only given two paragraphs of backstory for Abu Nazir, the actor researched the history of real life terrorists. He believes his character personality parallels that of terrorists we are fighting today. Since Negahban wasn't given much of Nazir's history, he says he would like to see a Homeland spinoff, centered around the terrorist.
Negahban discussed his own past, growing up during the Iran Revolution and what America represented to him. Many of Negahban's peers were injured or killed in the war.
"Lots of kids would go [to the front line]. You come back to school and all of a sudden you would see in one of the desks is sitting a red tulip. A red tulip, when you open it the center is black and everything else is red. It represents a bullet wound. So you knew the person was not coming back," says Negahban.
As a teenager, Negahban believed America represented opportunity. It was a chance to better his life.
In the interview, the actor also discusses if he believes that Nazir is a villain, his concerns about playing a terrorist, and Brody's recent nervous breakdown.
Negahban enjoyed his time as a guest on AfterBuzz, stating, "I truly enjoy AfterBuzzTV Homeland AfterShow as much as I enjoy Homeland."
The Homeland aftershow is a weekly wrap up show that broadcasts worldwide from Los Angeles, CA as part of Extra's Maria Menounos and filmmaker Keven Undergaro's online broadcast network that's dedicated to producing daily post-game wrap-up shows for fans' favorite TV shows, covering shows of all kinds from Homeland to Walking Dead to American Horror Story to Dancing with the Stars to Survivor to WWE's Monday Night Raw and over 100 other series. With over 200 hosts in their roster, AfterBuzz TV currently receives over 16 million downloads on iTunes per week from over 75 countries. For further information about the network, visit afterbuzztv.com
AfterBuzz TV's Homeland aftershow is hosted by John Comerford, Roth Cornet, Jenna Busch and Thaddeus Massey immediately following Showtime's airing of Homeland on Sunday nights.
Links to the episode can be found on YouTube and iTunes.