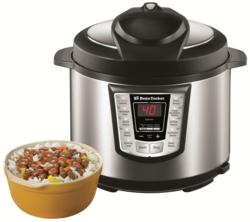 Your product is the best thing I have bought in years...
Denver, CO (PRWEB) November 21, 2012
With the holidays quickly approaching, EZ Bean Cooker, LLC. is offering 20% off of all orders placed now until December 24, 2012. Simply use the following code: EZGift20. The EZ Bean Cooker makes a unique holiday gift; it is the only product on the market specifically designed to cook dry beans with preset bean variety buttons. The EZ Bean Cooker is a small, electric kitchen appliance that uses pressure cooking technology to cook dry beans quickly, with no presoaking necessary. Simply add ingredients to the cooker, select the preset bean variety button, push "Start" and walk away. The EZ Bean Cooker cooks most beans in 30 to 50 minutes. With a simple recipe book that features one-pot meals, the EZ Bean Cooker is an essential kitchen appliance for busy families, those who want to be healthy, and people who love kitchen gadgets.
Based on customer reviews, people love the EZ Bean Cooker and it makes a wonderful gift not only for the upcoming holidays but for birthdays and weddings too. A customer in Michigan stated, "As a bean lover I must admit I was skeptical as to whether the EZ Bean Cooker could match the traditional methods. But it did right off….everything was easy, the prep, the process (ignoring the machine), and the clean-up, too, since the metal surfaces are all high-quality. Would make a great wedding present for diet-conscious couples." Pat says, "Your product is the best thing I have bought in years. It cooks my beans perfectly…"
Beans are a healthy food that can be enjoyed year round; make bean soups and chili during the cold months, easily prepare a one-pot meal of red beans and rice for the whole family to enjoy, whip up a homemade hummus or black bean dip for holiday parties, and create tasty bean salads during the summer months. Beans are a versatile and economical food; they're packed with protein, low in fat and sodium and rich in vitamins and minerals. With the EZ Bean Cooker, someone who has never cooked dry beans will be able to create a tasty, satisfying meal with little effort.
For additional information on the content of this release and the EZ Bean Cooker, please contact Meghan Walker or visit http://www.ezbeancooker.com.
About EZ Bean Cooker
EZ Bean Cooker, LLC was founded in January 2011 in Colorado and introduced the EZ Bean Cooker to the U.S. market in the fall of 2011. By offering a time-saving, affordable and simple to use product, the EZ Bean Cooker provides people with an easy way to be healthy and eat more nutrient-rich beans. For information, visit http://www.EZBeanCooker.com.
Meghan Walker, National Sales and Marketing Manager
EZ Bean Cooker, LLC
1-800-392-3261
http://www.ezbeancooker.com