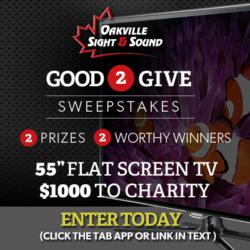 Oakville, ON (PRWEB) November 22, 2012
This year Oakville Sight & Sound wanted to increase their contribution to local charities while offering a fantastic pre-Christmas contest! That's why they created Good 2 Give - 2 prizes, 2 worthy winners. Oakville Sight & Sound is excited to be giving away a fantastic Samsung 55″ LED SMART TV and $1000 to a local charity. Users can enter the contest for their chance to win and then cast their vote for 1 of charities. The charity with the most votes at the end of the contest will receive the $1000 donation from Oakville Sight & Sound. The contest runs through December 21st, 2012.
Best of luck to the wonderful local charities participating:
Alzheimer Society of Hamilton & Halton - http://www.alzhh.ca
Since 1983, the Alzheimer Society of Hamilton and Halton has been dedicated to improving the quality of life for Ontarians living with Alzheimer's disease and other dementias and advancing the search for the cause and cure.
The Oakville & Milton Humane Society - http://www.omhs.ca
The Oakville & Milton Humane Society is a resource centre that promotes the Human/Animal Bond through education, prevention and protection, emphasizing kindness, compassion and respect for life.
Oakville Hospital Foundation - http://www.oakvillehospitalfoundation.com
The Oakville Hospital Foundation raises funds for the Oakville-Trafalgar Memorial Hospital (OTMH) of Halton Healthcare Services. The Foundation strives to ensure community residents have access to the highest quality healthcare services, which government funding alone cannot provide.
Halton Women's Place - http://www.haltonwomensplace.com
Halton Women's Place provides a safe haven, information and education to support a future without abuse for women and their children.
Carpenter Hospice - http://www.thecarpenterhospice.com
The Carpenter Hospice, located in the heart of Burlington, Ontario, provides individuals who are dying, and their families, with high quality palliative care in a home-like setting.
Head on over and enter the contest today!
Here's a quick review on the TV – a Samsung 55'' Full HD LED 3D TV
This Samsung Smart TV features Smart Content with Signature Services to add to the enjoyment. Apps built for TV connects users to family and friends, and help maintain a healthy lifestyle, and make learning fun for kids. A full web browser with WiFi built-in lets users search the web and access your wireless network. Use AllShare Play to view content from multiple devices on the big screen. The Clear Motion Rate of 480 renders fast motion scenes in clear detail. Also enjoy full HD 3D with two pairs of glasses included.
Never miss a moment with Samsung Smart TV. Users can watch their favorite movies while they browse the web or explore the Smart Hub and find more content they love by searching for shows, movies, and videos across vudu, Hulu Plus, YouTube, and other digital content providers. Movies are handpicked through recommendations based on the user's viewing history and ratings.
For over 20 years Oakville Sight & Sound has been providing home theatre equipment and installing custom home theatres and home automation solutions throughout Oakville, Mississauga, Burlington, Milton & Brampton. The team at Oakville Sight & Sound has the perfect solution for homeowners whether they're looking for a specific piece of equipment like the newest 3D TV, or if they're looking for a custom home theatre tailored to their specific needs.