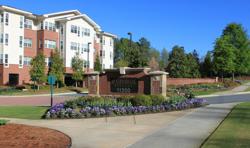 The SimpleC Companion has been a revolution, enabling staff to become better acquainted with residents on a more personal level
Atlanta, Ga. (PRWEB) November 23, 2012
For individuals considering treatment options for a loved one with Alzheimer's disease or dementia, the choice of a nursing home often comes with concerns about quality of life. Even when physical needs are met, many families remain concerned about their loved one's emotional health. But at St. George Village continuing care retirement community in Roswell, Ga., a culture of care has been established through the use of the SimpleC Companion, an innovative therapy technology.
"The biggest benefit is that SimpleC build relationships with everyone: family, residents, and staff. It gets everyone involved," said Mark Lowell, Executive Director. "Now, we're all able to talk more about what the resident desires, and focus on the positive."
Key details of a resident's life story are uploaded to an individualized touch-screen therapy unit, which then uses pre-recorded voices of family members or favorite caregivers to stimulate positive memories and prompt healthy routines, such as participation in mealtimes.
"The SimpleC Companion has been a revolution, enabling staff to become better acquainted with residents on a more personal level," said Mary Anderson, RN, MSN, Director of Wellness. "That in turn nurtures the relationship between the care partner and the resident, facilitating care that is centered around the resident's individual needs and desires."
One resident was experiencing difficulty dressing and grooming each morning, creating escalating anxiety for her and her family. However, after the SimpleC Companion was introduced, she has been able to get ready for the day calmly and easily.
"Residents and their families have responded so positively to the SimpleC Companion," said Anderson. "What a powerful technology!"
The SimpleC Companion is an intuitive touch-screen that promotes memory, engagement, and better communication for seniors. During key times throughout the day, the unit is activated and delivers scheduling help, such as activities and mealtimes, and also behavioral interventions for under stimulation, sundowning and aggression - all without the use of medications. Users receive rich visual cues such as their own family photographs, and hear meaningful audio such as preferred pieces of music and personalized messages recorded by family members or a favorite caregiver, to stimulate positive memories and foster healthy daily routines. With The Companion, SimpleC has created a solution that improves the quality of life for those living with Dementia and Alzheimer's, while also focusing on caregivers and providers, and the ways they can save time and money.
For more information, visit SimpleC.com and StGeorgeVillage.com.