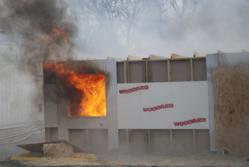 Woodard Cleaning and Restoration is proud to partner with area fire departments to provide advanced training and simulation scenarios that could protect fire fighters in the course of their duties.
St. Louis, MO (PRWEB) November 23, 2012
Woodard Cleaning and Fire Restoration has partnered with East Central Saint Louis Fire Departments in a program Woodard has coined "Build and Burn." This initiative, deployed November 5-15, is a simulated training project designed to further the development and knowledge of firefighter rescue teams to increase safety and efficiencies when disasters strike.
The goals of this year's Build and Burn initiative are two-fold: to equip fire safety officials with hands-on training of a technique called Positive Pressure Attack and to provide Woodard teams with additional opportunities to exercise cleaning and restoration tactics in a training environment. Woodard's reconstruction teambuilt a 900 square foot simulated home in which to conduct these "live fire" training evolutions. Supplier partners in the Woodard network supported this program with provision of building materials to construct the site.
The Positive Pressure Attack simulation training conducted at this site arms firefighting professionals with new methods to perform faster victim search in an environment that's less smoke-filled. The Positive Pressure Attack removes much of the toxic smoke and gasses in the air, which improves the chance of survival and healthy recovery for fire victims. This technique also reduces the chance of firefighters getting caught in a flashover, a hazardous scenario regarding the ignition of combustible materials caused by layers of hot smoke spreading across a room's ceiling.Additionally, because the Positive Pressure Attack tactic enables faster search and rescue, the flames in and on a structure can be addressed with less water damage to the property.
Woodard's partnership with fire rescue officials is a chief example of the organization's focus on safety in all scenarios. Education for fire safety and other officials, members of the Woodard Cleaning and Restoration Team and homeowners alike will ensure quick rescue and careful and appropriate restoration when disasters occur.
In cases of substantial fire, water or storm damage, assistance from professionals is generally the safest and best option. For more information on Woodard's restoration services,visit the website or contact customer service professionals at 314.961.9102.