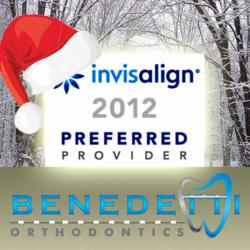 "Invisalign changed my life! I now have more confidence and the staff at Benedetti Orthodontics made it easy to pay for my services! I highly recommend them!"

- James Shaw of Fort Lauderdale
Fort Lauderdale, Fla. (PRWEB) November 29, 2012
The holidays are here and people all over the country are scrambling to get the perfect gifts for their loved ones. There are many wonderful gift ideas that consumers can choose from and Benedetti Orthodontics has the best idea yet by introducing Invisalign in Fort Lauderdale, Florida. Using the latest in technologies and comfort, Dr. Benedetti and his staff have incorporated the Invisalign advantage into their schedule of services. Invisalign has been around for a few years, however, Dr. Benedetti has refined the procedure to cost less than his competitors while still providing the best orthodontics services in Florida!
Many people will be writing out their Christmas wish lists this holiday season in the hopes that Jolly 'ol Saint Nick will bring them the gifts that they have been wishing for all year and asking for straight, white, and strong teeth are some of the most common requests from adults and teenagers alike. Broken, misaligned, and gapped teeth are easily and comfortably corrected using a series of corrective aligners that are swapped out every two weeks or so. Depending on the amount of correction that needs to be made, treatment typically lasts between 6 months to a year and a half. When customers search for Invisalign in Fort Lauderdale to give as a gift for the holidays, the only clear choice for providers is Benedetti Orthodontics because Dr. Benedetti has been providing this service for a few years now. In fact, the staff at Benedetti Orthodontics has recently been named as a 2012 preferred provider of Invisalign clear braces in Fort Lauderdale! With all of this experience, it's no wonder why Santa Claus chooses Benedetti Orthodontics to fill his sleigh with the wonderful gift of straight and beautiful teeth.
Invisalign has been creating smiles and satisfied customers for a few years now and Dr. Benedetti at Benedetti Orthodontics wants to make his customers get what they want this year: healthy, strong, and vibrant teeth that are sure to garner the attention of friends and family alike. Santa Claus has been making his lists and checking them twice! Invisalign for all the people who have been nothing but nice!