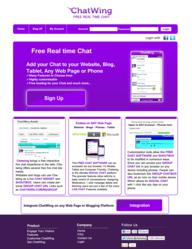 Milwaukee, WI (PRWEB) November 21, 2012
Chatwing has recently pushed its standards higher by launching a new chat widget capable of easy global connection and high customization options. The Chatwing chat tool has achieved a stream of popularity in various online sectors, including forums and blog sites. The Chatwing team has also added a social media integration feature to let users gain new friends and acquaintances easily. Chatwing app remains compatible to all blogs and websites.
The average Chatwing chatroom allows 1000 users to exchange ideas and talk about certain topics. This capacity is considered as a major upgrade to a simple micro-chatroom, attracting hundreds of online marketers and bloggers. Some online marketers have referred to Chatwing free chatbox as a quick and professional solution to their online campaigns. Other people, on the other hand, have used the Chatwing tool to promote links and social media accounts.
Chatwing chatbox has a social media integration feature that can be used in many ways possible. First, Chatwing visitors can use the option to log in with their Facebook or Twitter accounts. After that, they can now send invitations to each other and join different social media communities. This is useful for Facebook page makers who are looking aiming for higher popularity rates. Facebook gamers have also relied on the option to find new game neighbors that can enhance their gaming experience. Active Twitter users can grow their networks and find new trends with the help of the Chatwing chatroom.
The Chatwing Development Team is always dedicated on bringing a new chatting experience for everyone. To make this goal strong, Chatwing's developers are working hard to introduce new upgrades to the free shoutbox. They are also maintaining a Facebook page and a series of blogs to keep users well-informed.
About Chatwing.com
Chatwing.com specializes in the new field of website chat. Over years, the Chatwing team has introduced live chat widget for hundreds and thousands of blogs. The Chatwing application bridges people from many parts of the world, creating global synergy through the Internet. The shout box can be installed in just seconds, and it can be used for varying purposes such as leisure and Internet marketing. It also allows a user to customize the size, color, and name of the widget. Chatwing is 100% free for everyone.