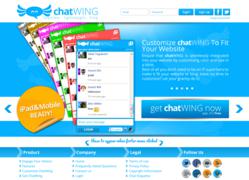 Dallas, TX (PRWEB) November 22, 2012
Facebook chat has served many people ever since its inception and it is still going to great lengths when it comes to communication. However, a new Facebook chat alternative has been released by Chatwing—a company that specializes in the premise of website chat. This alternative appears in the form of a customizable chat widget capable of social media integration and 100% admin control. The Chatwing chat tool also promises ease of access for everyone.
Facebook chat was deemed highly effective, but many people are experiencing random 'lags' around the world. Chatwing's free shout box can become a free alternative whenever Facebook chatting is unavailable. The Chatwing chatroom has the capability to hold up to 1000 users simultaneously, and it offers dynamic chatting experience. For example, chatroom visitors can now use blocky avatars with pop culture 'Easter eggs' or references. To use the avatars, visitors can log in as Guests.
Other users can log in using their social media accounts, such as Facebook and Twitter. This feature is called social media integration and has contributed to the overall rank of the free chatbox. This is also the reason why the Chatwing chat tool has been used by social media marketers as an all-in-one marketing tool. In the latest Chatwing app version, background image embedding is now allowed, supporting any branding awareness campaign.
Based on the research of the Chatwing Development Team, many web surfers are looking for applications that are flexible and versatile. The Chatwing chatbox can attain these two important factors because the developers have a decent strategic plan. Additionally, the developers are updating Chatwing's Facebook page whenever there are new developments.
About Chatwing.com
Chatwing.com specializes in the new field of website chat. Over years, the Chatwing team has introduced live chat widget for hundreds and thousands of blogs. The Chatwing application bridges people from many parts of the world, creating global synergy through the Internet. The shout box can be installed in just seconds, and it can be used for varying purposes such as leisure and Internet marketing. It also allows a user to customize the size, color, and name of the widget. Chatwing is 100% free for everyone.