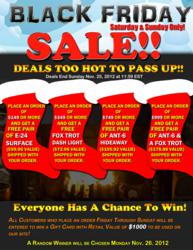 Despite the economic challenges over the last 3 years our business has flourished thanks to our loyal customer base. We want to be sure our customers know how much we appreciate their continued support.
Jupiter, Florida (PRWEB) November 22, 2012
Extreme Tactical Dynamics will ring in the holiday season by offering customers great deals on emergency vehicle lights, equipment and freebies if their order exceeds $149.
Beginning Thursday and ending Sunday at 11:59 p.m. EST, the company's Black Friday sale will allow customers who place orders to receive free merchandise based on the amount of their order. Customers who place orders between Friday and Sunday will also be entered to win a $1,000 gift certificate to use on Extreme Tactical Dynamics' website. The drawing will be held Monday, Nov. 26.
Here's how the free promotion breaks down:
If the customers order more than $149 of merchandise, they will receive a free E-24 Surface Light, a $59.96 value.
Orders of $349 or more will receive a Fox Trot Dash Light that's valued at $72.96.
If the customer's order exceeds $749, they receive a free pair of Ant-6 Hideaway strobe lights. These are valued at $105.92.
Orders of greater than $999 will receive both a pair of Ant-6 Hideaway strobe lights and a Fox Trot Dash Light. Those items are valued at $178.88.
Customers can select the color for their free merchandise. The color must be specified in the "notes" section of the order form. Free items cannot be exchanged.
Additionally, free merchandise will not appear in customers' shopping cart, but the special promotional items will be shipped along with the other items customers order.
Because this promotion is certain to generate a lot of interest, it is possible free items will run out of stock. In that event, customers will be notified as soon as possible. Backordered items will be shipped in December and will arrive in time for Christmas.
For more information about the sale and special promotion, please visit http://www.extremetacticaldynamics.com/black_friday.php.