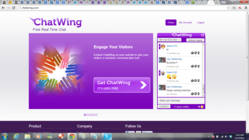 Boston, MA (PRWEB) November 22, 2012
Chatwing is now offering a flexible chat widget solution to entrepreneurs who want to build new websites. The Chatwing chat tool is recommended to entrepreneurs because it has the ability to make new connections in different parts of the world. These connections can be established in just few seconds. As an added bonus, Chatwing app allows users to expand their social networks in just few clicks.
One of the early factors that must be considered by entrepreneurial website owners is audience or subscriber base. Without subscribers, the website will become inactive in just few days and weeks. To generate online visibility, the Chatwing chatbox transforms the website into an active chatting lounge where visitors can gather and exchange information. The entrepreneur can use the Chatwing chatroom to share tips and generate new leads within the shortest possible time.
Chatwing's free chat box can be installed to any blog or website, and this step can be accomplished in just seconds. After website registration, the user can now proceed to the dashboard and gain access to Chatwing app's wide customization options. From the dashboard, the user can set up the color and size of the widget. He can also change the border color, add a background image, and even set up word filters to make his chatroom profanity-free. Once the customization process is done, the user can now retrieve the HTML code and embed it to his website. In a snap, the free shout box will become live.
The Chatwing team is always planning out new strategies to help people website owners gain the true visibility they need. Additionally, the team is also reaching out to blogging communities, forums, and other online sectors. For Chatwing's developers, website chat is an important premise that must be considered at all times.
About Chatwing.com
Chatwing.com specializes in the new field of website chat. Over years, the Chatwing team has introduced live chat widget for hundreds and thousands of blogs. The Chatwing application bridges people from many parts of the world, creating global synergy through the Internet. The shout box can be installed in just seconds, and it can be used for varying purposes such as leisure and Internet marketing. It also allows a user to customize the size, color, and name of the widget. Chatwing is 100% free for everyone.