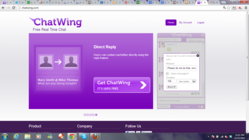 San Francisco, CA (PRWEB) November 23, 2012
Chatwing Development Team has readily introduced a series of upgrades to its latest chat widget. One of the most notable upgrades is the capacity overhaul. In the new chat tool version, up to 1000 users can communicate effectively. The Chatwing team believes that this upgrade is necessary to ensure that users can benefit from multiple information sources easily.
Aside from the user capacity overhaul, Chatwing team has added many customization options. Now, users can add background images to make the chatbox more enticing. To do this, the Chatwing admin just needs to select from Chatwing app's collection of images. He can also upload an image URL if the default themes do not match his preferences.
Changing the size and colors of the free chatbox is now easier because users will be able to tweak the options separately. For example, message fonts can have separate colors over widget borders. Word filter option is still included—now, this can be set easily by typing the profane words that will be detected by the chat app. Users can now make unlimited chat boxes and even add as many moderators as possible.
The Chatwing Development Team is currently working on the new upgrades and developments. Chatwing's developers believe that a dynamic and free shout box will be able to serve people on a better scale. Additionally, the Chatwing chat app can be used for various online purposes such as online marketing and web research.
About Chatwing.com
Chatwing.com specializes in the new field of website chat. Over years, the Chatwing team has introduced live chat widget for hundreds and thousands of blogs. The Chatwing application bridges people from many parts of the world, creating global synergy through the Internet. The shout box can be installed in just seconds, and it can be used for varying purposes such as leisure and Internet marketing. It also allows a user to customize the size, color, and name of the widget. Chatwing is 100% free for everyone.