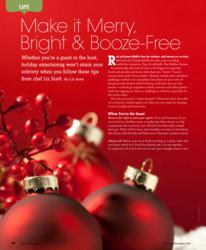 How do we avoid a 'white knuckle' Christmas when the odds are so heavily stacked against us?
Chicago, Ill (PRWEB) November 22, 2012
Renew magazine, America's No. 1 recovery magazine, knows that the holiday season can be brutal if you're in early recovery. That's why in its current issue, Renew offers some of the best tips for getting through the season.
In the November/December 2012 issue, experts and those facing the daily challenges of recovery, extend their help to those who are dreading the upcoming holiday season. Chef Liz Scott, author of The Sober Kitchen, Sober Celebrations and Zero-Proof Cocktails, outlines everything the recovery community needs to know regarding hosting and attending holiday parties — cooking, fielding sobriety questions, making the right choices and how to enjoy the festivities.
"How do we avoid a 'white knuckle' Christmas when the odds are so heavily stacked against us?" Scott says, explaining that cocktail get-togethers, family reunions and office parties pack in the months of November and December. To combat the odds, she gives readers her best tips to keep holidays merry, bright and booze-free.
Helpful guidelines in the issue include:

Plan for inappropriate gifts. It's not uncommon for people to give alcohol as a gift. Expect it, and figure out how you'll decline graciously.
Always have an exit strategy. When holiday parties and get-togethers are aplenty, many people pile in the same car. You should have a Plan B so that you can leave questionable situations, or are able to get some air.
Prepare a statement regarding why you don't drink. There will inevitably be a toast and someone will want to know why you aren't drinking. Know it's coming, and be ready.
Create new traditions with your family. If out-of-control celebrations are your family's cup of tea, then it's time to create new traditions. Don't be afraid to challenge the status quo.
In addition to cocktail and party temptations, the holidays are simply just a stressful time of the year. Everyone also needs a little guidance on how to lessen the familial stresses. Armed with a "Holiday To-Do List," Renew readers will be ready to take on the season.
In the same issue, Christopher Kennedy Lawford, William C. Moyers, Renew Editor-at-Large Laurie Dhue and Renew Media Editorial Director Steve Diogo also tackle the national discussion of addiction and recovery policy. Diogo says it's time to get loud and active about recovery issues, which are dissected in the issue by the group of advocates.
To learn more about Renew magazine or to subscribe and receive the November/December 2012 issue, visit RenewEveryDay.com — an online beacon for the recovery community with daily articles, personal stories of recovery and helpful how-to's. Renew magazine and RenewEveryDay.com aim to inspire readers to create and embrace a lifestyle of sobriety.