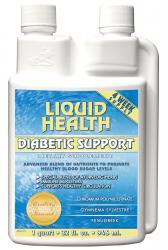 We wanted to provide a natural supplement to help people manage their blood sugar.
Murrieta, CA (PRWEB) November 27, 2012
Diabetes is a growing problem in the United States. The Center for Disease Control reported that in 2010 approximately 8.3% of the American population had diabetes. There are many suggestions of ways to control or manage a person's diabetes.Among these suggestions is supplementation, such as Liquid Health, Inc.'s Diabetic Support liquid nutritional supplement.
Many people with diabetes make changes to their diet in an effort to control their blood sugar. The National Diabetes Education Program suggests following a healthy diet consisting of "fruits and vegetables, fish, lean meats, chicken or turkey without the skin, dry peas or beans, whole grains, and low-fat or skim milk and cheese." In addition they recommend keeping meat portions smaller, around 3 ounces, reducing salt and fat intake and increasing fiber.
Another important aspect of managing diabetes is to continue or increase physical activity. This helps a person maintain a healthy weight. Maintaining a healthy weight is important for diabetics because, according to the Center for Disease Control, "often, people with type 2 diabetes are able to lower their blood glucose by losing weight and increasing physical activity. Losing weight also helps lower the risk for other health problems that especially affect people with diabetes, such as cardiovascular disease."
"Diabetes is on the rise and we wanted to provide a natural supplement to help people manage their blood sugar and hopefully avoid further complications," according to Brett Peterson, Director of Business Development for Liquid Health, Inc.
Liquid Health, Inc. offers a liquid diabetic supplement for diabetics looking for an additional source of support in managing their diabetes. This product includes minerals and Ayurvedic herbs to promote healthy blood sugar levels and support pancreas function.
Liquid Health Diabetic Support Supplement includes:
Vitamin D (as Cholecalciferol) 180IU
Vitamin E (as d-alpha tocpheryl acetate) 150IU
Thiamin (thiamin hydrochloride) 10mg
Riboflavin (riboflavin 5 phosphate) 25mg
Niacin (as niacinimide) 25mg
Vitamin B6 (as pyridoxine hydrochloride) 25 mg
Folic Acid 250mcg
Vitamin B12 (as methylcobalamin) 250mcg
Biotin 300mcg
Pantothenic Acid (as calcium pantothenate) 300 mcg
Magnesium (magnesium gluconate) 25mg
Zinc (as zinc picolinate) 5mg
Chromium (as chromium polynicotinate) 200mcg
Inositol 250mg
Proprietary Blend: Panax Ginseng Root, Astragalus Root, Fenugreek (Trigonella foenum graecum) Seed, Cassia (Cinnamonum aromaticum) Bark Extract, Gymnema (Gymnema sylvestre) Aerial, Bitter Melon (Momordica charantia) Fruit Extract. 665 mg
About Liquid Health, Inc.:
Liquid Health, Inc. has been designing and manufacturing liquid vitamin supplements since 1991. All Liquid Health products, including Diabetic Support, are manufactured in a certified-cGMP (current Good Manufacturing Practices) facility, using only premium/qualified ingredients, and are analyzed and tested. All Liquid Health products are made in the U.S.A.
Contact:
Sarah Brimhall, Marketing Associate
Liquid Health, Inc.
800-995-6607
http://www.liquidhealthinc.com