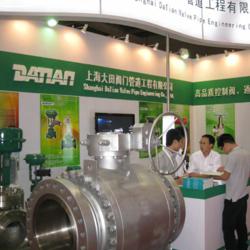 (PRWEB) November 22, 2012
Recently, DaTianValve.com introduced its new-generation ball valve, split body ball valve. The valve features a locking handle or manual gear operator. It may be used for isolation and throttling (half open to full open only).
The design of the split body ball valve allows the valve to function without the complications of side loads, typical of the types of the globe or butterfly valves, and the valve design permits inspection and repair of seats and seals without removing the valve body from the pipeline.
According to Steve Zhao, marketing manager of DaTianValve.com, " The low initial cost of the split body ball valves compared to others' products was very attractive to many manufacturers. In addition, it can improve the valve's working efficiency greatly, up to 29%."
Steve Zhao, said, "The new series of orbit ball valves, are new products in the valve industry. They can bring a fresh feeling to the market, and may be the trend of 2013."
The followings are some details of the new product:
. Two Piece Body Design
. Manufacture in Forged and Casting Materials: WCB, A105, SS304, SS316 & Duplex etc. Other Materials available upon Request
. Various Trim and Seat (Resilient and Metal) Materials available To Suit Different Service Conditions
. Pressure Rating: CL150, CL300, CL600, CL900, CL1500, CL2500
. Available in Both Floating/Trunnion Ball
. Flanged (RB, F.P) Ends to ANSI B16.5
. Face to Face Dimension to ANSI B16.10
. Pre-temp. Rating to ASME B16.34
. Wall Thickness to ASME B16.34
. Size Ranges: 1/2 ~18"
. Optional Lockable Handle Lever
. Blowout Proof Stem
. Fire Safe Design to API 6FA
. Inspect & Test: API 6D / API598
. Valve Marking: MSS- SP-25
For more details, please refer to the technical data sheets, valve selection guides, chemical resistance guide and catalog for engineering and installation information.
DaTianValve.com is strong at the OEM and ODM in the valve industry. Its gate valve and globe valve, with Independent intellectual property rights, are very popular in the international market. Valve coupon is a best way to promote the business and acknowledge its customers.
"We are proud to have the ability to support customers in delivering both standard and custom products quickly and responsively. Now we look forward to promoting the business and acknowledge its customers." Said , Steve Zhao.
About DaTianValve.com
DaTianValve.com is a leading valve manufacturer and supplier located in China, offering a wide range of valves, including ball valve, gate valve, control valve, manual valve, automatic valve, lining valve and fittings. DaTianValve.com is offering the industry's most comprehensive valve product line available from a single source.
For more details about this new product, please visit: http://www.datianvalve.com/