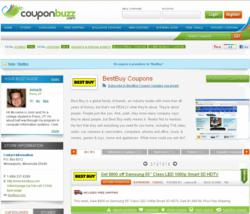 ...offering limited amounts of items at a steeply discounted sale price creates retail pressure to shop early and in hoards...
(PRWEB) November 23, 2012
Consumers everywhere are starting to question whether or not Thanksgiving Day is on its way to being rechristened as Black Thursday. Last year's trend of opening stores for late hours on Thankgiving Day continues in 2012, with major retailers like Wal-Mart, Sears, Target, Toys R Us and Best Buy offering Thanksgiving Day sale hours in their brick and mortar stores as well as online. Online coupon website CouponBuzz.com argues that although Best Buy Black Friday deals, like those featured on their dedicated Best Buy coupon webpage, have always been available online as of Thursday at midnight, opening the actual stores themselves is a horse of a different color.
"The whole reason that Black Friday works is because offering limited amounts of items at a steeply discounted sale price creates retail pressure to shop early and in hoards, because the early birds really are getting the worm," explained Justin Bowen, founder of CouponBuzz.com. "When you spread the sales out over a longer time period, especially when one of those days is a family centered holiday, you get people like me who are just going to opt out of going to stores entirely. As you might expect, I usually do a lot of my holiday shopping online, and gimmicks like this are only making me more likely to avoid retail stores on principle."
On November 27th, 2011, the Associated Press reported that according to the National Retail Federation, 24 percent of Black Friday shoppers started their shopping extravaganza by lining up at stores on midnight Thanksgiving Day. This number is up from 9 percent in 2010, when stores open on Thanksgiving were still few and far between. Obviously opening on Thanksgiving Day worked well for retailers, so with the economy still tight, many are pushing their opening hours even earlier on Thanksgiving Day. However, for consumers like Justin, they might just push it too far, causing individuals who might otherwise compete for sale items to opt out in favor of spending time with family on the holiday.
Best Buy Black Friday coupons are still in full swing online, regardless of the hours they are opening the doors on their brick and mortar stores. CouponBuzz.com is listing all of the Best Buy Black Friday deals in their dedicated section for Best Buy coupons. They expect high amounts of traffic from the steep discounts being offered on flat-panel HD televisions, tablets, digital cameras and more. Consumers can find all the Best Buy Black Friday offers in one streamlined location, accessed via this link http://couponbuzz.com/bestbuy-coupons.html.