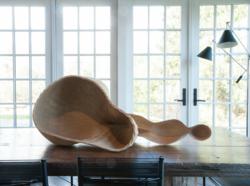 Wilton, CT (PRWEB) November 26, 2012
On Monday, November 26, 2012, browngrotta arts of Wilton, Connecticut will present an online exhibition, "Retro/Prospective: 25+ Years of Art Textiles and Sculpture" at http://www.browngrotta.com. Sales made online or by telephone on CyberMonday will be discounted 10% (excluding tax and shipping).
The comprehensive exhibition highlights browngrotta arts' 25 years promoting international contemporary art. Viewers can click on any image in the online exhibition and reach a page with more information about the artists and their work. "Some of the works in "Retro/Prospective: 25+ Years of Art Textiles and Sculpture" reflect the early days of contemporary textile art and sculpture movement," says Tom Grotta, founder and co-curator at browngrotta arts. "There are also current works by established and emerging artists, that suggest where the movement is and where it is headed."
The artists in "Retro/Prospective: 25+ Years of Art Textiles and Sculpture" come from a wide range of art backgrounds and countries, including Bulgaria, Chile, Japan and France. They utilize diverse techniques and materials – from wire to cockleburrs to newspaper and silk. Some, like Lia Cook and Adela Akers from the US, are mid-career artists who have achieved international recognition. Others, like Laura Thomas of the UK, Randy Walker of the US and recent graduate Stéphanie Jacques of Belgium, are emerging talents. For others, like Chang Yeonsoon, 2008 Artist of the Year, National Museum of Contemporary Art in Seoul, Korea and Grethe Sorensen of Denmark, their work has been celebrated abroad, but only rarely shown in the United States. The exhibition also includes artists who work outside art textiles, including mixed-media sculptor Lawrence LaBianca and ceramist Yasuhisa Kohyama.
The artworks selected by browngrotta arts for its 25th anniversary exhibition are powerful. John McQueen's dramatic "Centered," begun in 2007, is from his personal collection, Naoko Serino's ethereal "Generating 12" is from her most current body of work, Sue Lawty's "Calculus" is a contemplation made of thousands of tiny stones, from a series she began as artist in residence at the V&A, and Chris Drury's "Roussillon I," takes viewers on a visual adventure by combining rubbed ochre on paper and a woven map.
For 25 years, browngrotta arts has promoted contemporary art textiles, sculpture and mixed media – through catalogs, art fairs, co-partnered exhibits at museums and retail spaces and online. "We represent a uniquely global group of artists, more than 100 in all," says Grotta. "We have hundreds of available works viewable online. It is our hope that the curated selection of work in "Retro/Prospective: 25+ Years of Art Textiles and Sculpture" will encourage collectors and designers to view more at http://www.browngrotta.com and our blog, http://www.arttextstyle.com."
Since it opened, browngrotta arts has placed works in dozens of private and corporate collections in the US and abroad, including Club Quarters in San Francisco and New York, the Okura Hotel in Macao and the permanent collections of the Metropolitan Museum of Art, Museum of Arts and Design, Art Institute of Chicago,and the Philadelphia Museum of Art.
For more information, call 203-834-0623; email: art(at)browngrotta(dot)com or visit http://www.browngrotta.com.