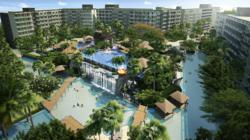 The Laguna Beach series have proved extremely successful with our investors!
(PRWEB UK) 23 November 2012
Popular with visitors the world over for its postcard-perfect beaches, year-round sunshine and laid-back lifestyle, Thailand is continuing to embrace the demand for beach-front condos with a wave of new developments in the popular area of Jomtien Beach in Pattaya.
Having sold numerous properties in Thailand for many years now, Knight Knox International is delighted to announce the launch of the final phase of Laguna Beach Resort 3 – The Maldives. With pre-launch prices available until 1st December, interest is expected to be high in this already popular resort.
Laguna Beach Resort 3 – The Maldives
A seven building resort development of over 25,000sqm "The Maldives" brings a new resort experience to Pattaya real estate on an unprecedented scale. A seven-building resort only 750m from the beautiful Jomtien Beach, the launch of the final tower (building G) offers residents the option of owning a luxurious apartment with ocean or pool views from as little as £26,500.
One of the most fully-equipped resorts in the Pattaya area, The Maldives has been designed to provide all the facilities that residents could require – all in one place. An enormous lagoon pool of over 5000sqm, Jacuzzi zones, botanical gardens, waterfalls and water slide, bars and restaurants, a fully-equipped gymnasium and fitness facilities are just some of the amenities available in this high-end condominium complex. Completion is set for 2015 and investors are offered flexible payment plans to suit their individual budgets.
"We have worked closely with Heights Holdings for many years now and are delighted with the quality of the projects they have delivered" comments Lee Chettoe, Sales Manager at Knight Knox International. "The Laguna Beach series have proven extremely successful with our investors; in addition to an extremely competitive pricing structure, each development has a wide range of features and facilities which prove very popular with clients, not only as a lifestyle choice, but as an investment for their future".
With prices set to rise on 1st December 2012, potential buyers are advised to register their interest immediately to ensure they don't lose out.
Knight Knox International
Specialists at selling property in Thailand for many years, Knight Knox International also has a wide range of developments available in the popular tourist locations of Koh Samui, Phuket, Krabi, Pattaya and Hua Hin.
Studios, beach-front condominiums and designer lakeside apartments are available in a range of locations, with prices starting from as little as £15,000 for foreign ownership.
To enquire about the units in, or for further information on the full range of developments in Thailand available through Knight Knox International call +44 (0)161 772 1370.