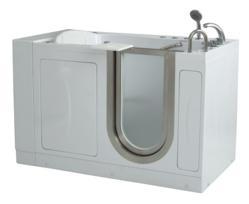 The prices for walk in bathtubs and showers for this Black Friday sales event will be the lowest found nationally, without sacrificing quality or features.
Denver, CO (PRWEB) November 23, 2012
Aging Safely Baths has announced a Black Friday Sales event that will kick off at 3:00 A.M. central time. This exciting Black Friday promotion will offer walk in bathtubs, roll in showers and other bathroom safety products at prices dramatically less than normal. Aging Safely is a leading national supplier of walk in bathtubs, handicap showers, grab bars, bathtub lifts and wheelchair accessible bathtubs.
Aging Safely Baths has dropped their prices especially for this sales event and will have reduced prices on walk in bathtubs from 10-35% off of retail. Seniors and those seeking safer alternatives for bathing can get an incredible price on a hydrotherapy tub, or other specialty bathroom safety products. Aging Safely sells the highest quality brands on the market, many that are independently certified by third parties. This is something to consider, and can possibly increase ones confidence when purchasing a bathtub with a door.
Many times seniors will purchase walk in tubs or roll in showers in an effort to stay in their homes longer. Many times offsetting the high costs of assisted living or a nursing home facility. Not only does it does it offer the elderly an opportunity for bathing independently but it also can add peace of mind and security for those that may have a fear of falling in the bathroom or bathtub. Statistically the bathroom is one of the most dangerous rooms in the home, so for those looking for resources on aging in place strategies, a walk in bathtub should be at top of your list.
Walk in bathtubs have become very popular for seniors and those with mobility challenges for a couple of reasons. One of the main motivators, is being able to bathe independently, without the help of a care taker or need for assistance. However many elderly also enjoy a walk in tub for the therapeutic benefits that hydrotherapy can potentially offer. Bathers with arthritis, back aches and strains, high blood pressure, poor circulation and numerous other ailments many times will seek out this type of product. Hydrotherapy is an all natural form of therapy that doesn't require prescription drugs or harsh chemicals.
This exciting Black Friday Sale will also have prizes randomly given away to customers. From free warm air hydrotherapy, to free handicap grab bars, gift cards to major retailers and more. Customers that get in on these huge savings for walk in bathtubs or a handicap shower, will still get the same guarantees and warranties that come with non discounted products. Aging Safely Baths is a customer service oriented company that is known for industry leading service and products.
The company also announces they will be offering several closeout or overstock walk in tubs and showers at incredibly low prices as well. Limited inventory will be available on the overstock and close out senior bathtubs, however there may be some real bargains for those seeking an excellent deal and price. Customers will have an opportunity to get walk in bathtubs and bathroom safety products for much less than they would anywhere else without sacrificing quality and peace of mind. Aging Safely has numerous bathroom safety products and walk in tubs that are very unique from the mainstream cookie cutter walk in tubs found on the market today. There are many online retailers for walk in tubs, yet few of them meet the quality standards that Aging Safely offers.
Contact Information:
Phoebe Maor
1-888-779-BATH(2284)
info(at)agingsafelybaths(dot)com