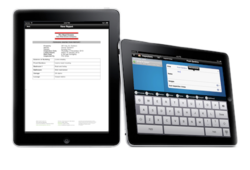 With the new PIM app, our property mgrs can inspect the property, take photos, run a report from one of our templates & then email it off to the owner, all within hours. Maintenance issues can be addressed quicker, keeping tenant & owner happy
Perth, Western Australia (PRWEB) November 27, 2012
Property Inspection Manager, the #1 rated Inspection App in Australia, have just announced a version of their latest iPad app which now offers improved layout and design for Routine/Periodic Inspection and Property Condition and Ingoing/Outgoing/Entry/Exit Reports plus support for high quality photos, available in the App Store.
PIM is a leading Real Estate iPad Inspection application designed by Property Managers for Property Managers. PIM grew from a need to deliver an easy to use app in a market where scratchy notes were still being typed up in the office wasting many hours by all involved. From the start the PIM tool has been designed to save time and money by allowing faster inspections,faster document generation,real time reporting (back to property owners) and, ultimately, happier customers. With PIMs intuitive design allowing easy entry of Property Condition Reports (PCR), Routine Inspection Reports, Entry/Exit Reports and Ingoing/Outgoing reports coupled with the ease of taking high quality photos on the spot and simplicity of its shorthand words, powerful user customization options, PIM offers maximum usability.
With the PIM tools' unique ability to create professional quality customizable templates with custom branding/logos/disclaimers (or integration of existing reports/forms), it's the only Real Estate Inspection app on the market giving greater flexibility to its customers at their fingertips. Checkout some samples
PIM has a wide customer base throughout all Australian states, South Africa, UK, NZ & US. PIM is also capable of Building, Property Audit, Insurance and Smoke Alarm Inspections.
To learn more about PIM and utilize the Free 2 Week trial for PIM Premium customers, visit http://www.propertyinspectionmanager.com