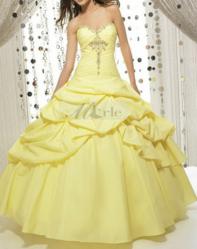 (PRWEB) November 23, 2012
With the coming of the special days of Thanksgiving, Black Friday, and Cyber Monday, Merle Dress, a leading wedding dress online store, is kicking off the holiday shopping season with its wedding dress promotion, up to 55% off. Moreover, the free shipping offers the most profitable benefit for online customers.
The styles in the promotion range from wedding dresses, cocktail dresses, and homecoming dresses to evening dresses, and it will go through the November and December 2012. Merle Dress can always help young ladies to grab the spotlight in few seconds, and they are suitable for various occasions, especially for some parties.
The fresh and cool design of its website can help customers to use some savvy methods to find the best deals and fight the crowds. Donnie Terry, CEO of Merle Dress, said, "Not only do we have the latest designer products, we also have a money-back guarantee, which provides customers a risk-free way of trying out any of our amazing product lines."
In addition, Donnie Terry especially recommends customers pay more attention to their club dresses and cocktail dresses, because they are most often used during this holiday season. A customer wrote her review as followers, "I just purchased this dress. WOW, thank you so much- I appreciate it!! It checked me out super fast. I am very pleased with Merle Dress!"
About Merle Dress
MerleDress.com is a leading supplier of wedding dresses, prom dresses, other special-occasion dresses. Merle Dress started with a basic idea of helping women dress better and is now famous for its outstanding quality in fabric, materials, and fit without the inconvenience and costs of traditional bridal boutiques and retailers.
For more information, please visit: http://www.merledress.com/