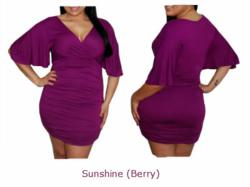 They are a hit among larger women who wish to be sexy, trendy and not be limited by their size
Tallahassee, Florida (PRWEB) November 26, 2012
Great Glam recently introduced new additions of plus size dresses for women to their huge collection of women's clothing. Consumers who are on the look out for plus size trendy clothing will be able to view more than 300 over designs in the plus size category.
First time shoppers will be able to view sizing information easily on the website. There is also an option for customers to search for products based on size and category which is an added convenience to many customers.
The new plus size clothing for women come in many different colors, styles, cutting and are made from comfortable material. They are a hit among larger women who wish to be sexy, trendy and not be limited by their size. Many of the best sellers are made available in plus sizes to cater to the needs of their customers.
According to a GreatGlam spokesperson, the company adds 250 new styles every week to their store catering to the constant demand of their customers for the latest fashion and design. These include a range of sexy dresses, casual shirts, rompers, skirts, club tops and plus size outfits. All outfits, dresses and clothing are priced reasonably below $30 per piece.
Customers will be able to find not only sexy dresses in plus size but also skirts, shirts, rompers, shorts and club wear. The website makes it easy for shoppers to view their products as customers just need to hover their cursor over the images to see a back or side view of the clothing.
While the site also offers a huge range of stylish high heel shoes to complement their fashionable range of clothing, the free shipping offer does not apply for shoes.
Currently, the company is offering free shipping for every order above $60 to their US customers. The company also offers international shipping. Customers who prefer to order by phone could call 1800-971-4669 from Monday to Friday (10.00am – 4.00pm EST).
Those who wish to visit Great Glam's virtual retail store will be able to find them in Florida. One of the outlet is located in University Mall (Burlington Coat Factory Wing) in Tampa while the other is located at Brandon Westfield Mall (Macy's Wing).
InstanteStore, an ecommerce shopping cart powers Great Glam's store.
For more information and to view the huge range of fashionable womens clothing, please visit http://www.GreatGlam.com or visit one of their virtual retail clothing stores in Florida. The company is owned and powered by women promising to offer quality, stylish and affordable clothing for women all over.