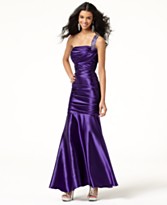 (PRWEB) November 23, 2012
CloseoutExplosion.com has published a free report showing high end boutiques how to turn buyers of wholesale social dresses into long term customers. One of the biggest challenges that dress retailers face, especially in the high priced category of ball gowns, is motivating their customers to buy on a regular basis. Since most buyers of fancy elegant dresses buy them for special occasions, retailers need strategies for turning these customers into regular buyers.
Donny Lowy, has a New York wholesale fashion warehouse that supplies designer dresses by Tahari, Jones New York, BCBG, Calvin Klein, and other internationally recognizable brands to retailers located in the United States, as well as in Africa, the Caribbean, Europe, Latin America, and the Middle East. He has seen how this challenge can affect many businesses, whether they are expensive boutiques in Nigeria or Lebanon. Through his new fashion sales report he hopes to enable his customers to experience more of a continuous buying pattern from their shoppers.
"While the profit margin on a wholesale Adrianna Papell dress can be very high, and by the virtue of its beauty attract high spending customers, the challenge is to have them purchase these types of high caliber dresses on a regular basis. I have attempted to solve this challenge by publishing these retail selling tips," said Donny Lowy, who primarily purchases brand name overstock pallets and supplies this merchandise to retailers in cities such as Manhattan, Nairobi, Lagos, Miami, Port Of Spain, and Monterrey.
CloseoutExplosion.com reviews tips on this important topic such as:
-How To Capture Customer Loyalty From The First Sale In Your Store
-Setting Up A Dress Membership Program For Your Boutique
-How To Determine The Optimal Price For Your Retail Membership Plan
-An Effective Sales Tip That Almost Guarantees That Your Shopper Returns Again To Your Boutique
-How To Market Your Dress Shop To A Large Pool Of Qualified Shoppers
-Why Explaining The Benefits Of Your Business Can Lead Towards More Repeat Sales
Closeout Explosion has a warehouse located in Greenpoint, Brooklyn, which is an up and coming neighborhood located minutes away from the New York Garment District. By renting commercial space outside of the New York Fashion District it is able to offer substantially lower wholesale prices since its rental expenses are substantially lower than those paid for by Manhattan clothing showrooms.
Its lower wholesale prices, combined with a great selection of closeout designer apparel, make it a shopping destination for customers from many countries including Guyana, Jamaica, South Africa, Zambia, and Zimbabwe. Wholesale buyers can make their own selection in the warehouse, or they can order online from its liquidation website.