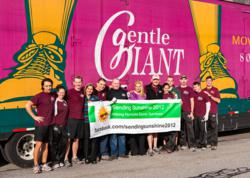 Sending Sunshine restored hope and gave people a reason to smile for the first time in weeks
Andover, MA (PRWEB) November 26, 2012
After seeing the devastation that Hurricane Sandy caused throughout the East Coast, Diane Dillon of Sending Sunshine sprung to action, seeking organizations that could donate trucks and manpower to help coordinate a relief effort. During her initial research, she saw information online about Gentle Giant Moving Company helping victims of Hurricane Katrina by delivering several tractor trailers worth of relief to the devastated areas back in 2007. When Gentle Giant Founder & CEO Larry O'Toole received a call from Dillon asking for help, he immediately agreed because of her enthusiasm, dedication, and organization.
Starting on November 5th, Gentle Giant Moving Company began delivering hundreds of large bins and other packing supplies up to Sending Sunshine's Donation Headquarters in Andover, MA. These bins were quickly filled with donations from people throughout New England; including food, clothing, baby care products, first aid, and toys. Sending Sunshine was able to corral hundreds of volunteers to help sort and organize these donations based on what it was and where it was going in New York.
On Friday, November 16th, three days after Sending stopped receiving donations, Gentle Giant brought three tractor trailers, several movers, and additional office staff from their headquarters in Somerville, MA up to Andover to load approximately 50,000 lbs of donations in just a few hours. As the day progressed, more trucks from Bob's Discount Furniture arrived, and were quickly filled with more donated items. By the end of the day, over 500 large bins, bags, and trash barrels of donations were loaded and ready to be sent off. Following a police escort, the Gentle Giant tractors began their trip to New York, specifically Far Rockaway, Rockaway Beach, and Lawrence. For pictures of the trailer loading and the sendoff, visit Gentle Giant's Flickr Page.
When the Gentle Giant tractor trailer arrived in New York, they were met by so many people in such desperate need of these donations that the drivers wound up opening the trailer in the middle of traffic. Gentle Giant's New York Branch manager, Josh Charry, was at the drop off to help distribute everything.
"This delivery from Sending Sunshine couldn't have come at a better time," Charry explained. "These past few weeks have been so trying that people were on the verge on giving up. On top of providing relief, Sending Sunshine restored hope and gave people a reason to smile for the first time in weeks."
In addition to helping Sending Sunshine in Massachusetts and New York, Gentle Giant's Washington DC Branch helped Hurricane Sandy victims by teaming up with Chesterbrook Elementary school in Virginia and Congressman Chris Smith to load and deliver donated items from our nation's capital to storm-ravaged areas of New Jersey.
About Gentle Giant Moving Company, Inc.
Founded in 1980, Massachusetts Moving Company Gentle Giant is a premier residential and commercial mover, offering local moving, interstate moving, and international moving service. Named 2009 Independent Mover of the Year by the American Moving and Storage Association, one of the Boston Business Journal's Best Places to Work in Massachusetts in 2004, 2005, and 2006, winner of the 2006 International Torch Award for Marketplace Ethics by the Better Business Bureau, winner of the Better Business Bureau's Torch Award for Excellence in 2002, 2003, 2005 and 2008, nine-time winner of Boston Magazine's "Best of Boston," six-time winner of The Improper Bostonian's "Boston's Best Moving Company" award, twelve-time winner of the Angie's List "Super Service" award, and 2007 Top Small Workplaces award from the Wall Street Journal and Winning Workplaces, the company's services include craning, piano moving, complete packing services and unpacking services, and other related services. Gentle Giant offers storage facilities and dispatches crews from its 18 offices in California, Massachusetts, New Hampshire, New York, North Carolina, Rhode Island, Virginia, Washington, DC and Washington State. For more information, please call (617) 661-3333 or visit http://www.GentleGiant.com.