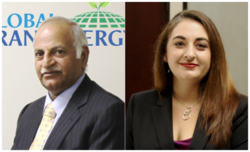 "We are very confident that Ms. Berumen will steer Global Transynergy toward a highly successful future."
Houston, Texas (PRWEB) November 26, 2012
After recently launching Global Transynergy Companies, Brij Walia announced the appointment of Mindy Berumen as president. Berumen is charged with implementing Walia's vision for the new holding company, which will house several of Walia's related subsidiaries.
"We are very confident that Ms. Berumen will steer Global Transynergy toward a highly successful future," Walia said.
Prior to joining Global TranSynergy, Berumen spent 14 years climbing the career ladder within the marketing department at Continental Mfg. Company, Inc. She assumed various roles before graduating to Vice President of Marketing. As VP, she was fully responsible for the branding and communications of Continental's products and services. Under her marketing leadership, Continental Mfg. Company, Inc., successfully positioned its brand and increased market share.
"I look forward to taking on this new challenge," Berumen said. "My top priorities are implementing exceptional customer service and ensuring superior quality. I will be working to achieve these objectives with our subsidiaries and leaders in the trucking and transportation industry."
Berumen already initiated her work by establishing the roadmap for some of the company's alliances and key players in the CNG market. She will be working closely with Walia and Global Transynergy's other principals.
ABOUT GLOBAL TRANSYNERGY COMPANIES
Through its subsidiaries, Global Transynergy Companies provides several products and solutions based on CNG technology (compressed natural gas) that enable clients in the U.S. as well as Central and South America to lower costs, increase efficiency, and reduce their carbon footprint. Presently, Global Transynergy Companies is concluding licensing and distribution, and formalizing agreements.