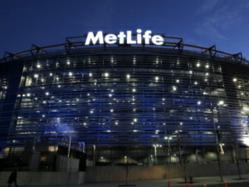 Newark, NJ (PRWEB) November 28, 2012
In a sport known for its sensational smack downs, WWE fans pulled off one of their own last November 10, 2012. On the first day WrestleMania XXIX tickets became available to the public, fans went ballistic, knocking down 52,029 tickets in just 24 hours.
That made it the highest grossing day ever for event producer WWE. It topped WrestleMania 18's previous record of 51,620 tickets sold the first day. And, at over $10 million in revenues, it almost doubled WrestleMania 28's record day-one gross of $6.3 million.
The 29th annual WrestleMania professional wrestling pay-per-view event will be held on Aril 7, 2012 at MetLife Stadium in East Rutherford, New Jersey.
"WWE is extremely popular. Over 90,000 fans are expected to pack MetLife Stadium for the event," said Felina Martinez at online ticket marketplace BuyAnySeat.com. "WWE Tour events have also been selling out, both overseas and around the U.S.. We're seeing massive online traffic for tickets to all of the WWE events."
"Fans enjoy seeing the match-ups and the action live and up close. They enjoy being able to actually feel the impact when competitors make contact with each other or the canvas. That's why we're proud to be able to offer fans a complete selection of cheap WWE WrestleMania XXIX tickets, with a worry-free guarantee to protect their purchase," said Martinez.
"In fact, we have a huge selection of discount WWE WrestleMania XXIX tickets now available on our site. To access the cheap WWE WrestleMania XXIX tickets we now have available, customers can go to BuyAnySeat.com and search for WWE – then select their tickets," said Martinez.
This will be the first WrestleMania to be held at MetLife Stadium, and the fifth to take place in the New York metropolitan area. Three previous WrestleMania events have been held at Madison Square Garden and one partial event was held at the Nassau Coliseum. In addition, two events have also been held in New Jersey at Trump Plaza in Atlantic City.
WWE, previously known as World Wrestling Entertainment, is also currently on a U.S. tour; and fans are flocking in to see their favorite wrestling stars perform in person. With monikers like Rock, CM Punk, Ryback, John Cena, Sheamus, Dolph Zigger, Eve and Michelle McCool – WWE stars flaunt colorful personas and powerful physiques. Best of all, they deliver spectacular smack downs, which translate into big box office draws.
The WWE Tour is currently in Louisiana, with events in North and South Carolina, Virginia, New Jersey, Connecticut, Pennsylvania and New York scheduled for late November and December of 2012. See below for a complete listing of the upcoming WWE events and tickets available.
To shop for cheap WWE WrestleMania XIXX tickets, or tickets to any other WWE event, visit BuyAnySeat.com.
About BuyAnySeat.com: An online ticket marketplace, BuyAnySeat.com connects sports, theater and other live entertainment fans to an extensive worldwide network of ticket sellers. The site's simplified listings and navigational tools enable fans to easily locate, compare and purchase inexpensive, discounted or lower-priced tickets to virtually all advertised sports and entertainment events around the globe. The site, which is PCI-compliant and Norton Secured, also provides customers with a complete Worry-Free Guarantee on all ticket purchases. Based in Denver, Colorado, BuyAnySeat.com is a subsidiary of Denver Media Holdings. For more information, please visit http://buyanyseat.com.