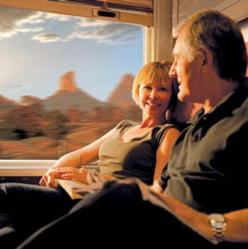 (PRWEB) November 26, 2012
Goway Travel, the leading experts in Australia travel, have announced two new rail specials for trips on Australia's best trains; The Ghan, Indian Pacific and The Sunlander.
Goway is currently offering a 20% discount on Queenslander Class travel on the Sunlander. The Sunlander, voted Australia's number one rail journey, and one of the top 25 rail journeys in the world, weaves its way along Queensland's incredible coastline between Brisbane and tropical north Queensland. This special is valid for travel until the end of March 2013.
There is also 30% discount offer available on two of Australia's great trains. The legendary Ghan train which was named after the hardy Afghans and their camel trains which provided the only means of transport into "The Red Centre" in the early days. The journey is now from Adelaide to Alice Springs to Darwin. The Indian Pacific is the longest and one of the greatest rail journeys on earth. It is an ocean to ocean adventure between Sydney and Perth.
Every journey on The Ghan or Indian Pacific offers travellers a unique blend of unrivalled scenery, fine dining, great company and world class service. Simply book a Gold Service journey and clients are eligible for a 30% discount on select sectors.
Goway specializes in custom itineraries for independent and group travel. Since 1970, Goway has provided unforgettable travel experiences to some of the world's most exotic and interesting destinations. Goway's destinations include Australia, Asia, Africa, the Middle East, Latin America, Antarctica and idyllic tropical islands. For a free trip quote, visit http://www.goway.com.