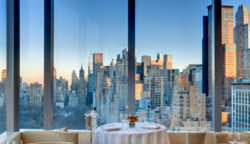 All in all, Asiate is a restaurant that deserves a lot more accolades than it has gotten.
New York City, NY (PRWEB) November 26, 2012
Kalle Bergman, restaurant reviewer and editor in chief of Honest Cooking is impressed with Asiate Restaurant at the Mandarin Oriental Hotel. In a review on Honest Cooking, he writes:
Let's get one thing out of the way before we get to the food – the view at Asiate is not good. It's killer. Jaw dropping. Crazy.
From the 35th floor of the Mandarin Oriental hotel in New York City, you are overlooking the south western parts of central park, Columbus Circle and the billionaire apartment buildings on 5th Avenue and Central Park South. It is a stunning surrounding, and one that makes it a serious test of will power to concentrate on food and conversations instead of constantly veering from the plate and towards the window. If we had one hundred stars to give out purely based on the view, Asiate would get a hundred and one.
But a review at Honest Cooking isn't about views. It's about food.
Asiate has been around for a few years, but its modern Asian inspired cuisine hasn't earned them any Michelin stars or raving New York Times reviews. So the restaurant, even with its stunning location, is still pretty much a hidden gem on New York's fine dining scene. That's a pity. Or perhaps lucky. Because if people knew how good the restaurant really is, getting a table with one of the best views in the world would probably be damn near impossible.
At Asiate you can choose between a 3 course menu for 95 USD, or the large Tasting Menu. The Tasting Menu, which Honest Cooking went with, costs 135 USD, with an optional wine pairing billed at 95 USD. Asiate is thereby pricing itself on the same level as some of the best restaurants in the city, which obviously takes expectations up a notch.
Luckily for Asiate, and diner's wallets, it is well worth the money.
Where some restaurants try to force merge cuisines, the Asian-Western flavors at Asiate are nearly consistently perfectly married. None of the dishes feel constructed. From the invigorating start, the hamachi with preserved cherry blossom and white soy ponzu, all the way through the final savory dish, the wagyu beef with smoked potato puree and yuzu koshou, the creations taste like they are the most natural fusions in the world. And throughout the menu, dishes are, for lack of a better word, very fresh. The diver scallop with spiced granité and pickled green tomatillo balances the fat ocean flavors, the chilly spiciness and the acidity on a knife edge. The decadent signature soba noodles, with osetra caviar and uni cream, is creamy, but still has a vibrant freshness that keeps the dish from becoming heavy. The butter poached lobster with white polenta and kaffir lime emulsion succeeds with the same task – balancing classic French cuisine with interesting, but not overpowering Asian influences. It is a fun dinner, easy on the eyes and equally easy on the palate. The food tastes, look and feel very contemporary. And more importantly, it is good. Damn good.
The wine pairings are consistently good throughout the meal, jumping effortlessly from continent to continent, and grape to grape. Bubblies from North Coast California, Junmai Sake, ancient Italians and classic Rhônes match their respective dish well, and there's both interesting funkiness and well known palate comforters in the selection.
All in all, Asiate is a restaurant that deserves a lot more accolades than it has gotten. There is both creativity, craftsmanship and a whole lot of knowledge about flavors there, and it is a shame that the restaurant is still relatively unknown.
*****
Asiate Restaurant
Mandarin Oriental Hotel
80 Columbus Circle at 60th Street,
New York, New York 10023
Website
Phone (212) 805 8800
The Honest Cooking Rating System
****** Six stars – Cooking on the highest international level. Service is impeccable and beverages are perfectly paired with the food. A world class dining experience.
***** Five stars – Represents cooking on an international level. Dishes look and taste great and display a personal touch. Service is highly professional making it a dining destination that is really worth a detour.
**** Four stars – This represents very good cooking with ambitions. Solid preparation of all dishes, only very few flaws. A restaurant that Honest Cooking recommends a visit to.
*** Three stars – Represents good cooking, and an above average restaurant, but without the more personal touches and craftsmanship that is demanded of higher ratings.
** Two stars – Represents average cooking. The restaurant doesn't reach a level where the food stands out as anything special, and service / ambience has flaws.

One star – Represents sub-par cooking and service. A restaurant to stay away from.
Read the complete review on Honest Cooking here.