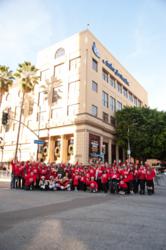 I think it is very important for the Hollywood community to embrace their parade
Hollywood, CA (PRWEB) November 23, 2012
Over 500 local residents have volunteered to help in this year's 2012 Hollywood Christmas Parade Benefiting Marine Toys for Tots, bringing a new dimension to the annual celebration of the magic of Hollywood. Presenting Sponsors include The City of Los Angeles, the Hallmark Channel and Associated Television International, which is executive producing the live parade and the telecast of it.
Groups participating in this year's parade include: Artists for the Way to Happiness; Author Services, Inc, as the green room; Friends of the Hollywood Central Park; Hollywood Arts Council; the Hollywood Hotel; Kiwanis Hollywood with members from Hollywood High School, John Marshall High and LACC; Larchmont Charter; the Stem Academy; and, WAKA (World Adult Kickball Assn)
Food for the volunteers and green room have been graciously provided by Cabo Cantina, CPK, Fabiolus Cucina, Five0Four Restaurant, Joe's Pizza and Muse Lifestyle Group, all the local Starbucks along Hollywood Blvd, Subway at Franklin and Highland, the Supper Club,
Jeff Zarrinnam, President and CEO of the Hollywood Hotel-The Hotel of Hollywood (http://www.hollywoodhotel.net), stated, "I think it is very important for the Hollywood community to embrace their parade. As a member of the Hollywood Chamber Board of Directors, when the offer to participate in the parade was made, I immediately wanted to provide a chance for my hotel staff to help carry one of those large balloons down Hollywood Blvd."
It is anticipated that through its national broadcast on the Hallmark Channel and national syndication, the Hollywood Christmas parade will be seen by over 15,000,000 viewers this holiday season making it once again, one of the most watched holiday specials.
For more information on the parade go to Hollywood Christmas Parade on Facebook.