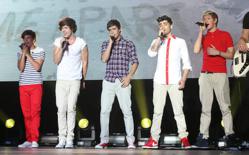 "Welcome Back the Boy Bands"
Los Angeles, CA (PRWEB) November 24, 2012
Cheap Concert Tickets announces that One Direction will be coming to the Staples Center in early August to the delight of their thousands of fans in the Los Angeles area. The series of performances from the X Factor 2010 winners is much anticipated; and their fans in California can hardly wait to book their tickets for the nights of August 7, 8, 9 and 10 next year. By fans, we don't just mean hordes of screaming teenagers. Rather, there are entire families who are eager to watch Louis Tomlinson, Niall Horan, Liam Payne, Harry Styles and Zayn Malik, perform on stage.
Welcome Back the Boy Bands . . . .
The 1990s and early 2000s saw the rise and fall of many boy band groups from the US and England. Several years later, their popularity was replaced by solo artists and the so-called K-Pop and J-Pop groups. However, when One Direction entered the scene in 2010, the music world took this as the rebirth of the boy band era. Mentored by celebrity judge Simon Cowell, One Direction signed up with his record label, Syco Records and subsequently landed a contract with Columbia Records in North America.
Thus far, their albums "Up All Night" and "Take Me Home," which were released in 2011 and 2012 respectively, became record-breaking hits.
According to reports, One Direction represents a $50 million business empire. Having sold some 12 million albums, videos and singles worldwide as of August 2012, this year is definitely "The Year of One Direction".
Earlier this month, One Direction released their studio album "Take Me Home". It features the already smash hit "Live While We're Young" which debuted at the top 10 of almost all music charts. The second single, "Little Things" also debuted at number 1 in the UK Charts.
British Invasion in the US . . . .
The British group is set to embark on a World Tour starting February 2013, and the Los Angeles California leg has been confirmed for August 7 -10.
This massive production has over 100 shows in Europe, Australia, Asia and North America. More details about the One Direction 2013 World Tour will be posted here as soon as they are confirmed. For now, it is highly recommended to book your tickets for the August 2013 One Direction performances at the Staples Center in Los Angeles.
Reserve your One Direction Los Angeles tickets today!
CheapConcertTickets.me delivers tickets to sold out concerts and events worldwide when no one else can, and they do so at discounted prices. As a member of TicketNetworkDirect, they can guarantee the delivery of tickets on time for sporting events, NASCAR, NBA, NFL, and NHL, and for One Direction Tickets Staples Center and The Rolling Stones at the Barclays Center. With CheapConcertTickets.me customer service is a priority, for more information email support(at)cheapconcerttickets(dot)me.