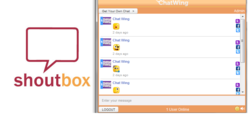 Cambridge, MA (PRWEB) November 28, 2012
The online gaming industry is continuously growing and attracting more clients. Today's games are more realistic in terms of graphics and stories. Game creators have made their games more interactive as well, giving rise to gaming communities on the web. Numerous websites, blogs and forums are available online providing tips, cheats and platforms for players to exchange sentiments and ideas. In line with this, Chatwing Company has also continuously re-created its free chat widget to meet the changing demands of gamers and other web users.
The latest web chat tool has a thousand-user capacity allowing online community interaction possible. The dynamic chat software can also facilitate private chats through its vanity URL form that utilizes username and shortlinks. Web users can unleash their creativity to the highest level because Chatwing offers its users a wide range of modification options. From the basics- size, color and border design to as advanced as CSS customization. Uploading game images and MP3 links to heighten the gaming spirit while chatting is also applicable in Chatwing's chat software.
Recent improvements include social media integration, full conversation control and add moderator features. Social network expansion will be accomplished with such ease while boosting the website or blog's traffic. The social media integration option makes the chat box in the site accessible to Twitter and Facebook users. More over, sharing sensible conversations, tips and advices can be shared with ease from the widget to one's social network account, making the account active as well.
The latest free chatbox empowers global connectivity. It also empowers web owners, administrators and moderators. Web owners and admins can create unlimited number of chat boxes and assign moderators to maintain and monitor the interaction in each widget. Assigned moderators and web admins have the capability to ban users and filter out words that are deemed profane and offensive. Web admins can also delete messages real time.
Online gaming and interaction have never been entertaining and worthwhile—it can be expected that more innovations will come to take the gaming experience and online chatting to the next level.
About Chatwing.com
Chatwing.com specializes in the new field of website chat. Over years, the Chatwing team has introduced live chat widget for hundreds and thousands of blogs. The Chatwing application bridges people from many parts of the world, creating global synergy through the Internet. The shout box can be installed in just seconds, and it can be used for varying purposes such as leisure and Internet marketing. It also allows a user to customize the size, color, and name of the widget. Chatwing is 100% free for everyone.