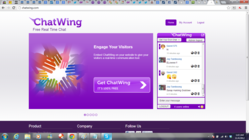 Memphis, TN (PRWEB) November 28, 2012
Chatwing has recently moved up in the online arena by creating a chat widget that has a reliable background image upload option. Additionally, Chatwing's developers have also tweaked the free chat app's admin parameters. Chatwing's developers have stated that the background image option is to help users create a highly-customized chat app that fits their preferences. Online marketers have also started relying on the option for their campaigns.
The background image option contributes to the overall effectiveness of the Chatwing chat box. Chatwing has noticed that common background images embedded are related to anime, animals, celebrities, funny images, hipsters, political figures, trending gadgets, and even food pictures. In a basic sense, the background image depends on the preference of the website owner. Online marketers believe that Chatwing app's background image option can help any branding or rebranding process.
Chatwing's admin parameters, on the other hand, were highly improved to help website owners gain full control of their chatrooms. In case of verbal disputes, the admin can ban chatroom visitors with just one click. Offending messages can also be deleted in real-time. As a long-term solution, Chatwing has added a word filter option. Now, admins can just input offending words in the chatbox dashboard. After that, the application will block those words to preserve the integrity of the website.
Currently, Chatwing and its team of brilliant developers are working out on more options that can make the free chat widget more reliable than ever. These upgrades will ensure that the Chatwing chat platform will run without technical glitches or slowed connection times. Apart from that, the platform can deal with large influx of users.
About Chatwing.com
Chatwing.com specializes in the new field of website chat. Over years, the Chatwing team has introduced live chat widget for hundreds and thousands of blogs. The Chatwing application bridges people from many parts of the world, creating global synergy through the Internet. The shout box can be installed in just seconds, and it can be used for varying purposes such as leisure and Internet marketing. It also allows a user to customize the size, color, and name of the widget. Chatwing is 100% free for everyone.