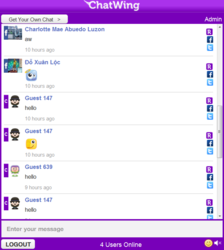 Boston, MA (PRWEB) November 30, 2012
Online forum offers web users unique tips, advices and suggestions that can't be found easily when browsing through the web. There are a lot of inquiries that need specific answers or solutions based from real-life experiences. Online forum serve as a platform where people can exchange, ask and share information. Online forum is also advantageous for websites offering services and products targeted towards specific goals or niche industries. Creating a forum-like website is easy through embedding a free chat widget in one's site.
Active forum makers can gain advantages from setting up forum sites. They can do subtle marketing and promotion and can get connected with target web users. Website owners, on the other hand, can transform their sites into forum sites by allotting space in their sites and install a chat software. The embedded web chat application can serve as a lounge for visitors to interact, communicate and engage with other Internet users.
Installing Chatwing chat box can be accomplished in less than a minute. Users can customize the chat widget in almost every aspect. The latest version allows CSS customization with available easy to follow instructions in the Chatwing website. The free chat software is also available in different forms intended for specific communication needs.
The regular free chatbox style has a thousand-user capacity and can be seen immediately by site visitors. The web owner can adjust the size of the widget depending on how much space he wants the chat tool to cover in his site. The pop-up window saves page space and also capable of facilitating real-time communication among thousands of chatters.
Forum makers can chat with specific groups by using the vanity URL form of the chatbox. Web users can be grouped into specific groups through this flexible chat feature. Website owners and administrators must always maintain their sites interactive and engaging to ensure that more users discover their web pages resulting to better online visibility.
About Chatwing.com
Chatwing.com specializes in the new field of website chat. Over years, the Chatwing team has introduced live chat widget for hundreds and thousands of blogs. The Chatwing application bridges people from many parts of the world, creating global synergy through the Internet. The shout box can be installed in just seconds, and it can be used for varying purposes such as leisure and Internet marketing. It also allows a user to customize the size, color, and name of the widget. Chatwing is 100% free for everyone.