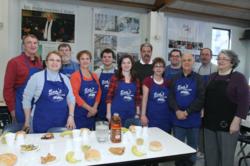 Paterson, New Jersey (PRWEB) November 26, 2012
In 1982, Msgr. Vincent E. Puma founded Eva's Kitchen, followed by the sheltering, substance abuse treatment and medical programs that fulfilled his vision of an entire village dedicated to helping people find a way out of poverty. On June 2nd, Msgr. Puma, passed away, but he left a legacy on a scale that few individuals ever achieve.
In celebration of his life and the mission of Eva's Village, members of Msgr. Puma's family joined volunteers and politicians this Thanksgiving to serve the more than 350 homeless and poor that come to Eva's Village for a warm meal. Six of his nieces and nephews plus other extended family served the meal donated by The Market Basket, Franklin Lakes.
Eva's Village (http://www.evasvillage.org) is a non-profit comprehensive social service organization with a mission to feed the hungry, shelter the homeless, treat the addicted and provide medical care to the poor with respect for the human dignity of each individual. The kitchen serves a hot nutritious meal every day at noon, 365 days/year. "Thanksgiving is a special time to give thanks for all the good in our lives, and Msgr. Puma's family wanted to recognize all he has done for the poor in our community by volunteering to serve at Thanksgiving", states Marie Reger, Executive Director.
Eva's Village, originally a New Jersey soup kitchen, was founded in 1982 by Msgr. Vincent E. Puma in response to the increasing incidence of homelessness in his Paterson, NJ parish. But Msgr. Puma soon realized that a soup kitchen was not enough. With the generous support of thousands of donors and private and government grants, Eva's has grown into the most respected anti-poverty program in New Jersey.
To donate to this NJ Charity, or for more information about Eva's Village, call (973)-523-6220, go to http://www.evasvillage.org or write to: Donna Fico, Director of Marketing & Education, Eva's Village, 393 Main Street, Paterson, NJ, 07501.