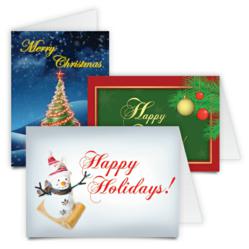 We never fail to deliver a job on time. We take our promises to the customer very seriously. The entire company is behind each project and we will do everything in our power to ensure every project is a total success.
Chicago, USA (PRWEB) November 26, 2012
There is something special about a paper holiday card arriving in the mail; it just feels different from email or text greetings. But in this digital age, many people are going the easy route instead of dealing with the project of writing and mailing paper cards. Now there is an easy way to send good ole paper greeting cards without the good ole hassles. ePrint123.com does just that.
Sure, many websites already offer customized greeting cards, but most of them fall short in terms of quality, speed, or service. In a recent survey, customers identified six top issues with using online printing companies for greeting and holiday cards:
1. Poor print quality. Blurry image, pixelated output, mis-registration, and a waxy toner look are common place. Such problems are typically associated with toner-based color copiers from Canon, Xerox, and Kodak.
2. Poor design templates — websites that offer design templates seem to favor quantity instead of quality. They boast "thousands of templates," but few of them look professional or usable.
3. Form-based customization tool. This limits the customer's ability to make a good looking design. Cumbersome workflow makes customizing a card a project in itself, not to mention unreliable output where the printed card doesn't match the online proof.
4. Inconsistent color. This problem is so common that even with a small qty of 25 or 50 cards, colors drift from one end of the spectrum to the other, usually due to lack of standards and calibration.
5. Slow delivery. Online print sites offering low-ball prices typically gang-run many jobs from different customers to lower cost. This results in unacceptably long job turnaround and a lowest-common-denominator quality.
6. Lack of service. Many websites hide behind their websites, not publishing their address or phone number. Customers can only contact the company using a web form and most of the time, get frustrated due to lack of satisfactory answers and slow response.
High-end greeting cards are typically produced on top-quality digital presses such as the HP Indigo at ePrint123.com, using true ink instead of toner. At over half a million dollars each, these presses cost many times as much as digital copiers. The quality difference is stunning. Vivid colors, sharp details, the traditional offset look separate Indigo digital printing from all the rest. With a long history of running every generation of Indigo since 1996, ePrint123 leverages its years of digital printing experience to offer the very best image quality HP Indigo has to offer.
ePrint123.com's website features a simple and elegant design, with an easy to navigate workflow. Templates are made by professional designers, and can be customized by the customer on-the-fly, using an easy-to-use HTML5-based Interactive Designer. Customers can upload photo, logo, add text, change font/color/size, and approve an electronic proof directly within the web browser. Envelope printing, inserting, mailing, and delivery to the post office round up the offerings, making it one of the easiest turn-key solutions for the customer.
Being a G7 certified Master Printer, ePrint123's equipment is calibrated on a regular basis, sometimes multiple times a day, to ensure the highest standards of color accuracy and consistency. Ever since it introduced the industry's first 48-hour Turnaround Guarantee almost 20 years back, ePrint123.com has been delivering jobs ahead of schedule with an unmatched sense of urgency.
"We never fail to deliver a job on time." says Jimmy Sun, president of ePrint123.com. "We take our promises to the customer very seriously. The entire company is behind each project and we will do everything in our power to ensure every project is a total success."
About ePrint123.com
ePrint123.com is powered by Sunrise Digital, an Inc. 5000 company established in 1988 and employs the most advanced equipment and technology, such as G7-certified HP Indigo and UV flatbed presses, and digital die-cutting, to create best-in-class color printing, P.O.P. retail displays, and signage products. A privately-owned enterprise, the company is based in Chicago and sells products worldwide.