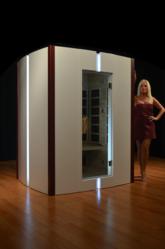 It can be both easy and relaxing or it can be extreme depending on your efforts and desired results. Joe Quincy, Marketing Director Hi-Q Fitness LLC
Denver, CO (PRWEB) November 25, 2012
This is not just a gorgeous sauna room that makes a house or spa look great. This is the new Patent Pending multi-use Hi-Q Fitness™ Far Infrared Sauna that can give users a total makeover by helping them detoxify their body, gain muscle mass, burn fat and help them look and feel years younger with tighter, lean, muscular body and clean, clear, youthful skin.
The Hi-Q Fitness™ sauna room has a far infrared heating system that heats the body deep to the core and induces sweat more profusely than old fashion convection saunas like hot rock or steam rooms.
One of the many new innovations is the ability to exercise every muscle in the body while inside. Much research has suggested that getting the body hot before performing resistance exercise is critical to avoid straining or ripping muscles, cartilage and tendons. This is of particular importance to people over 40 years old. As people age their body has a much harder time getting and staying in shape. Because after 40 years old the human body starts losing muscle mass, and tendons and cartilage become more vulnerable to damage and it all takes longer to recover.
Using the Hi-Q Fitness™ saunas will help all of aging ex athletes gain muscle mass without the risk of injury. One of the worse things that happens is someone finally gets the motivation to get back in shape. They actually make it to the gym and bam. Slight over exertion and a ripped tendon or pulled muscle; easy to do, and a few weeks wasted, out of commission. The prospect of getting back to the workout routine weakens as fast as the commitment.
On the other hand, if someone is under 40, the Hi-Q Fitness Sauna will help them remain physically and mentally under 40.
Hi-Q Fitness™ is instrumental to serious athletic and body building performance as well. As it turns out, getting hot before a strenuous exercise routine is popular in body building circles with claim it helps build muscle quicker, arguing there is an anabolic stimulation that occurs as a result of the heat stress. Hi-Q trainers would agree it's far more effective, safe and comfortable to first get the body deeply heated (between 10 to 15 minutes in the sauna) before beginning an exercise routine.
Attached to the Hi-Q Fitness Sauna reinforced walls are numerous strategically placed "D" rings to which exercise bands are attached. These are hardly typical wimpy exercise bands; resistance levels for Hi-Q bands resistance levels are up to 400 pounds. Hi-Q Fitness saunas provide a solid stool that snaps up into place after sliding the full sized bench conveniently against the back wall. Providing plenty of space to exercise every muscle in the body; aerobically or aerobically. Tone the body or build muscle. The stool swivels a full 360 degrees allowing for comfort, extending flexibility and boosting exercise options. Optionally the bench can be kept in place for a relaxed, cardiovascular stimulating profuse sweat that only far infrared heaters can provide.
One other unique aspect of the patent pending Hi-Q Fitness™ concept is the new LED Photo light therapy panel for use inside the sauna. A concept many actresses in Hollywood may know about all too well, these LED photo therapy lights give users a magnified dose of blue and red infrared light on their face. This infrared light penetration has been shown to increase collagen production, making the face tighter, helps remove scars, wrinkles, and acne, smooth and soften the skin. Double that potential when combining the LED while using the Hi-Q far infrared sauna, sweating out toxins, cleansing pores and eliminating puffy fat in the face. Seems so glamorous guys might even like it too.
Although this new state-of-the-art fitness sauna has just hit the market after years of R&D there is nothing remotely comparable.
"We look forward to hearing about individual results. In fact we send each and every customer a free digital video camera so they can document their progress on film. I've used the Hi-Q Sauna myself and I have experienced one of the hardest workouts ever. It can be both easy and relaxing or it can be beyond extreme depending on conditioning, effort made and desired results. But either way it's producing a bounty of real health benefits in great looking sauna,"
Joe Quincy, Marketing Director Hi-Q Fitness LLC.
Any smart fitness instructor would agree; exercise is much safer when the body is first heated. This is never more relevant than when dealing with handicapped individuals and those recovering from serious injury or illness with limited mobility. 100% handicap enabled with wheelchair access is one major patent pending feature of the Hi-Q Fitness sauna. We have often worked with wounded veterans in the past and now have agreed to commit a portion of all proceeds from Hi-Q Fitness sauna sales to the Wounded Warrior™ Project. We're proud of the fact that this tool is uniquely capable of making a difference in many people lives.
Now anyone can experience these advancements in technology. Hi-Q Fitness saunas are 59" wide by 51" deep, big enough for working every muscle in the body and small enough to fit in any room. Hi-Q Fitness saunas are often used in health clubs, spas and gyms but more frequently in the privacy of one's own home. To engage in safe and effective workouts, profuse sweating that leads to detoxification, weight loss, anti-aging and speedy recovery and recuperation there is now the Ferrari of saunas for a much more reasonable price.
About Hi-Q Fitness Saunas
Hi-Q Fitness™ saunas are available online at http://www.fitnesshiq.com.
Contact: Joe Quincy
Phone: 800-214-1798
# # #