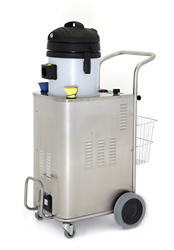 Daimer® is very excited to announce its most powerful steam car wash in its KleenJet® Ultra 5000CV with Non-Stop Steam™, which features pressure levels up to 125 psi and temperatures up to 369°F.
Woburn, MA (PRWEB) November 24, 2012
Daimer Industries, Inc.®, the world's foremost American brand of high-quality auto detailing equipment, including steam cleaners, mobile car pressure washing equipment, steam car wash machines, and hundreds of other technologically superior models distributed to clients in over 200 countries, is announcing its most powerful, completely Eco-safe, all electric system. Daimer®'s KleenJet Ultra 5000CV, a 100% electric steam cleaner offering pressure levels of up to 125 psi, is the most powerful 110 volt based mobile car wash in the industry.
Non-Stop Steam™ allows the system to qualify as the best car wash equipment in its class to offer high pressure flow all day without the pressure degradation of other vapor steam car wash machines on the market. Other brands of vapor steam cleaners do not offer the power to allow for continuous work, since they lose pressure quickly, requiring very frequent breaks to wait for pressure recovery. Daimer®'s KleenJet Ultra 5000CV allows auto detailing operators to truly maximize their productivity while cleaning, and avoid the downtime with mere ordinary vapor systems.
"Thousands of auto detailing professionals have asked us about offering a powerful advanced mobile car wash equipment without any diesel or propane to heat the machine. The EPA is applying pressure to those in the very popular car detailing business to clean cars in a more environmentally-friendly way, and avoid the water run-off associated with multipurpose pressure washers," says Matthew Baratta, spokesman of Daimer Industries, Inc.®. "Daimer® is very excited to announce its most powerful steam car wash in its KleenJet® Ultra 5000CV with Non-Stop Steam™, which features pressure levels up to 125 psi and temperatures up to 369°F. The system is an extremely powerful vapor steam car wash machine for constant, all day exterior car washing as well as hard surface interior maintenance as well."
Daimer®'s Ultra 5000CV offers the company's patented, exclusive heating element rods, which can save an auto detailer substantial money over other brands of steam cleaning machines on the market. When other non-Daimer® brands heating elements fail, then the entire boiler must be replaced. Unfortunately, their heating elements are welded inside welded boilers, so the entire major machine heating component must be removed and replaced at pricing up to and over an exorbitant $800.00. Daimer®'s boiler includes a lifetime warranty.
The Ultra 5000CV is the best car wash equipment to clean mildly dirty cars. The system is ideal for removing dust, lighter dirt, spattered bugs, brake dust, and more. In addition, the versatile machine can clean most auto interior hard surfaces, such as door jambs, vents, dash board, leather and vinyl seat, doors, and others.
Autos with more heavily caked-on dirt, mud, and other substances are best cleaned using a more powerful wet steam pressure washer, which contains a more cleansing flow containing water and vapor.Car pressure washer systems are definitely ideal for those car detailers and auto dealers living in climates that include more severe winter weather. Some vapor steamer suppliers will try to convince dry steam containing only about 5% water will clean even the filthiest car exteriors, but they are completely wrong, and unsuspecting buyers need to be careful before placing an order.
Daimer®'s Ultra 5000CV requires no external water tank like pressure washing equipment require, but rather the adding of water whenever the system calls for it. The machine's Continuous Refill technology allows users to add water to the water chamber at any time they desire without the need to depressurize the machine and shut it down. Other vapor portable car wash systems require the machine is shut down prior to adding water. Up to a 40 minutes heating time with their machines can be devastating to those on a tight time schedule. Daimer®'s Non-Stop Steam™ is the answer to those wanting to clean powerfully without stopping all day.
Daimer®'s KleenJet® Ultra 5000CV's all-electric technology can be used to clean inside homes and offices for applications like tile and grout cleaning, floor cleaning of vinyl and hard wood, and virtually unlimited additional tasks. Other car wash machine brands incorporating diesel into the configuration are preventing the systems from use indoors.
For Additional Information:
Visit Daimer®'s website or contact Matthew Baratta at (888) 507-2220 for more information about the steam car washing system as well as other cleaning machines in the company's line.
About Daimer Industries, Inc.®:
Daimer Industries, Inc.® is the world's cleaning equipment leader with over 600 models of highly reliable machines, including pressure washer equipment, carpet cleaning systems, hard floor cleaning machines, and many other technologies and models for most cleaning tasks.