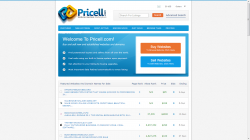 When we decided to use Pricell, we were thinking of our clients. Our clients have been requesting more advanced stats lately and Pricell automatically add this to every listing. We are happy with Pricell.com and the service they offer.
(PRWEB) November 27, 2012
Website flippers, people who profit from the arbitrage sale and purchase of websites, can now look forward to a much more user and wallet friendly flipping service in the form of a newly opened website auction marketplace, Pricell.com.
Unlike others, old auction marketplaces, which for the most part has dominated the Internet as the go-to marketplace for website auctions, Pricell differentiates by offering low prices and live support, on its new but already popular marketplace. Pricell can be accessed at http://pricell.com
Pricell.com – Price competitive website auction marketplace
Pricell.com Pricing

$0 Listing Fees
5% Success Fee
$320 Success Fee Cap
$1 Success Fee Minimum
Competitors Pricing
$29 Listing Fees
5% Success Fee
$2,000 Success Fee Cap
$10 Success Fee Minimum
As one can immediately tell, the pricing at Pircell.com is extremely competitive, especially when compared to the rather obtrusive pricing that other auction marketplaces has grunted down on website flippers for several years, giving them no other choice than to absorb high commission costs.
Pricell.com is also extremely price competitive when it comes to surcharges that will aid a website seller to better leverage their website for sale. As an example, bold listings, tweets to the website's followers and highlighted listings cost just $1-$5 each at Pricell.com, whereas their competitors can charge as much as $5 just for a bold listing.
Personalized support at Pricell.com
Another significant way in which Pricell.com has differentiated itself from other marketplaces is by offering live chat support. The website offers one on one chat support for 20 out of the 24 hours in a day, with 24/7 support deployment being around the corner. Support staff can advise the flipping community about site navigation, provide tips about selling and buying websites and can also provide critical information about how buyers and sellers can protect themselves during the payment transfer process, when they do make a sale or purchase.
At most other marketplaces, users still have to resort to annoyingly slow email communication which can be very frustrating in a niche where right timing can make a difference between a great website sale and a missed opportunity.
Pricell.com's impressive entry
Pricell.com is newly launched, after almost a year of intense development and testing. Despite its very short run time as an officially opened public website marketplace, a couple of weeks to be more specific, Pricell.com have already seen a thriving community of buyers and sellers, with hundreds of websites sold on a daily basis.
Majority of the sellers and buyers are those who jumped ship from other auction marketplaces, to take advantage of the obvious and significant cost savings available at Pricell. Will Pricell.com become the future marketplace for website buyers and sellers? That is something only time will tell. However, the explosive short term growth of Pricell.com seems to suggest that it is more of a possibility than plausibility.
Pricell.com can be accessed at http://pricell.com