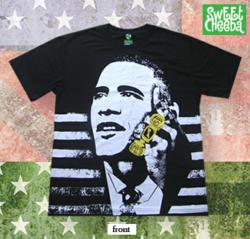 Too Bad You Can't Three-Peat.
Brooklyn, NY (PRWEB) November 26, 2012
Election Day, November 6th 2012. For many this day was considered to be one of the most important dates in recent history. People from across the nation traveled in droves and waited for the opportunity to cast their vote.
The days anticipation finally gave way to night: Game time. Romney, Obama's rival, definitely came to play. For a while the opposing sides were close, trading the lead back and forth. Romney proving to be a "worthy" opponent.
America sat on the edge of its collective seat awaiting the outcome. But early in the evening Obama began to pull away and opened up an uncompromising lead. Obama reached his point spread and was re elected to serve his second presidential term.
Despite full court opposition Obama proved victorious and remained undefeated, becoming the greatest player in the game. So clutch.
The Jordan of politics once again earned the endearing chant of MVP.
Too bad you can't three-peat.
The "Back to Back" Tee is available at sweetcheeba.com and select retailers.
Follow me @SweetCheeba