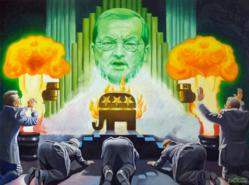 "My intent was to highlight the GOP's subservient relationship to the lobbyist in hopes it would loosen his grip and encourage compromise" -Michael D'Antuono
New York (PRWEB) November 26, 2012
Controversial artist Michael D'Antuono's newly released painting inspires curiosity about the powerful lobbyist's Svengali-like control over the GOP. The art and the question are especially relevant at this time considering that the Republicans' anti-tax pledge to him has left them in a very "uncompromising" position in negotiating the looming fiscal cliff.
The artwork, entitled "Who The Hell Is Grover Norquist?" depicts a few men in suits bowing and praying to the big green head of Norquist hovering over flames emanating from behind a golden GOP icon a la Wizard Of Oz. The provocative art is sure to pique the interest of viewers enough to learn about the giant green head with the funny name. People already fed up with government gridlock will be even more outraged to learn that a lobbyist is at the root of it. It seems the more people learn about Norquist's dominating influence on the GOP, the weaker his hold is becoming. Already some Republican members are starting to sound less steadfast in their allegiance to him and his anti-tax pledge.
"Who The Hell Is Grover Norquist?" is the latest in a series of D'Antuono's paintings challenging people to think more deeply about serious issues and inspire them to improve socio-political conditions. His enigmatic depiction of President Obama being crucified in front of the Presidential seal entitled "The Truth" revealed how distorted our political views become through our partisan lens. His painting inspired by the Trayvon Martin case "A Tale Of Two Hoodies" shed light on the deep-rooted racism still with us today.
You can see more about the artist's work at http://www.ArtandResponse.com