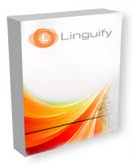 "This further validates our innovative technology that delivers any software application, in any language, instantly."
Atul Tulshibagwale, CEO of LinguaNext
San Jose, CA (PRWEB) November 26, 2012
LinguaNext, Inc., the leader in enterprise software language management, today announced that it has been selected as a candidate for Red Herring's 2012 Top 100 Global award, a prestigious recognition honoring the year's most audacious and far reaching private technology companies and entrepreneurs from across the globe. In 2011, LinguaNext was selected as a Red Herring Top 100 Asia company, and this nomination builds on LinguaNext's previous success.
The Red Herring editorial team selected the companies demonstrating the most innovative technologies and business models originating from over 1000 companies from over 40 nations. These companies, representing past Red Herring Asia, Europe and North America awards, are judged on a range of qualitative and quantitative metrics, including but not limited to, technology innovation, financial performance, growth criterion, management's execution standards, potential globalization of the strategy and market share improvement.
"Technology companies are becoming the bright spot in the economic outlook based on their increasing role within macro-economic environments," stated Alex Vieux, Chairman of Red Herring. "2012 has confirmed the sector's vibrant activity and its resilience to widespread economic problems. An unprecedented number of entrepreneurs are attempting to jump ahead of the competition and aspire to make a difference. Breakthroughs obsolete each other faster than ever before. LinguaNext has performed exceptionally in its field and strongly deserves to be singled out as one of the Red Herring Global Finalists. At this stage, we are left with the daunting task to select the best qualified companies for the 2012 Top 100 Global Award."
"We are proud to have been selected as a finalist for such an important and well-known award," said Atul Tulshibagwale, CEO of LinguaNext. "This further validates our innovative technology that delivers any software application, in any language, instantly. Customers, employees and regulators can now see screens, reports and files in their preferred language - delivering substantial business value and competitive advantage. We wish to thank Red Herring for giving us the opportunity and platform to spread the word about our incomparable solutions."
The Finalists are invited to present their winning strategies at the Red Herring Global forum in Los Angeles, November 27-29 2012. The Top 100 winners will be announced at a special awards ceremony on November 29 at the event.
About LinguaNext
LinguaNext is the market leader in enterprise application language management and has transformed the way global corporations address multi-language and local language support for their information technology systems. With a roster of over 70 large enterprise customers including 25 of the Global 2000 and a deployed base of over 1,000,000 end users, LinguaNext is fast becoming the de facto standard. LinguaNext's innovative technology-based solutions enable any enterprise, mobile or cloud software system to work in any language, seamlessly and with zero changes to the underlying application code. Learn more at http://www.linguanext.net.
Contact:
LinguaNext, Inc.
Christopher Lanfear
chris(at)linguanext(dot)net
LinguaNext, Linguify, SPeeD Suite, LinguaPack, ReportTrans, Indify, Linguify.Reports, Linguify.Banks and Phrasier are trademarks of LinguaNext or its subsidiaries. Any other company, product or service names mentioned above are the registered or unregistered trademarks of their respective owner.
###