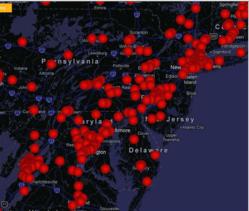 Since Halloween, Vampires are 'Awakening' across the map...
Harrisonburg, VA (PRWEB) November 27, 2012
V is an MMO/RPG game of strategy; hunt other players, create powerful clans, and rule your city or the world. Location based missions, distinct player talents, and lunar events are all driven by episodic storytelling.
Raincrow's Chief Creative Officer, Travis Fox commented, "We're very pleased with the reception V has received, and the player feedback is extremely encouraging. We set out to create an epic story inside an innovative game experience and we've done that. As important, we've proven that our LBG game engine is reliable, scalable and offers us endless opportunities for other LBG titles and a wide variety of movement based applications."
V Dusk Falling will also be available on iOS in the near future. New features, additional content, and expanded look and feel are scheduled for regular release on both iOS and Android platforms.
Buoyed by the solid market reception of V Dusk Falling, Raincrow is kicking fund raising and hiring into high gear to expand marketing and development for V Dusk Falling and related projects.
About Raincrow Games
Raincrow Games is a collection of writers, gamers, and geeks, with a vision to create epic interactive stories through the fusion of cutting edge technology, compelling fiction and interactive game play to be enjoyed on a global stage.
V Dusk Falling is Raincrow's first title in the mobile gaming world but is backed by years of successful ventures between the founders in other forms of media and design work.
Embrace your inner vampire. "Play the Story"
For more visit http://www.raincrowgames.com
Twitter @raincrowgames
Become a V Dusk Falling fan at Facebook.com/Vduskfalling