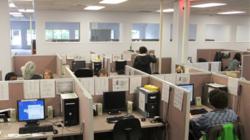 Within hours, Sound Telecom agents were answering our calls and providing our students with exceptional service
Seattle, Washington (PRWEB) November 29, 2012
Sound Telecom, a nationwide provider of 24-hour Telephone Answering, Call Center and Cloud-based Communication Services, stood strong against Hurricane Sandy. East Coast businesses commonly affected by "hurricane alley" turned to Sound Telecom to bolster disaster recovery efforts. "We are always online," says Director of Operations, John Dubay, "and we are geographically well-positioned to assist our customers that are on the Eastern seaboard."
Sound Telecom received more than one phone call from customers that were preparing for Hurricane Sandy in advance. "I had about a dozen customers contact me the week prior to Sandy to let me know they would be out of the office for the entire week! So I prepared my team to handle calls for these clients 24/7," said Brian Gabriel, Chief Operations Officer for Sound Telecom. "Moreover, we were ready to assist businesses that had to make last-minute decisions about disaster coverage."
One of the businesses requiring last-minute assistance was LaGuardia College in New York City. "LaGuardia was unsure if the hurricane would affect them. Sandy ended up taking out their telecommunications completely," said Mr. Gabriel. Evelyn Lowmark, Associate Director of Administrative and Support Services for LaGuardia College, contacted Sound Telecom and asked if an emergency support service could be set up that same day. "We were happy to respond immediately," continued Brian. In less than 10 hours, Sound Telecom built a comprehensive call handling program. "Sound telecom really came through," stated Ms. Lowmark. "Within hours, Sound Telecom agents were answering our calls and providing our students with exceptional service. The level of professionalism and accommodation was impressive." LaGuardia College used Sound Telecom to keep the lines of communication open and ensure that students and parents were able to receive important updates around-the-clock.
"We are proud to be working with LaGuardia College", said Michael LaBaw, President of Sound Telecom. "Their commitment to excellence and their dedication to customer service make them a great partner for us. We look forward to our continued relationship with them."
About Sound Telecom
Sound Telecom is a leading provider of 24 hour Telephone Answering, Call Center and Cloud-base Communication Services, headquartered in Seattle professionally serving thousands of customers throughout the United States and Canada with USA based agents. The twenty-six year old company has offices in Seattle and Spokane, Washington and Denver, Colorado. For more information, please visit http://www.sound-tele.com.
Contact Information
Sound Telecom
Michael L. LaBaw, President
800-577-1550
http://www.sound-tele.com