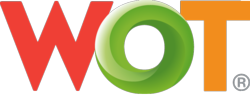 WOT changes the Internet landscape and promotes trustworthiness for the benefit of all web users
Helsinki, Finland (PRWEB) November 26, 2012
The community-powered safe surfing tool Web of Trust (WOT) announced today that it has raised € 1MM investment lead by Inventure, a cross-border venture capital group based in Finland and China. Other participating investors include private investor Risto Siilasmaa and the Finnish Industry Investment, which has been a shareholder of WOT since 2007.
WOT will use the investment proceeds from this round for additional product development work in order to keep pace with the company's accelerating global growth. During 2012, downloads of WOT's browser add-on doubled to 50 million.
WOT helps web users find reliable websites by adding traffic light style symbols next to links that show how millions of web users have rated the site in terms of trustworthiness, vendor reliability, privacy and child safety. Based on real user experiences, WOT protects from the threats that traditional anti-virus software cannot, such as sites with questionable content, dubious online stores, unreliable vendors, and potential threats to privacy and child safety. WOT users rate approximately 300 000 websites every week and the add-on gives average 2.5 million warnings of untrustworthy sites every day.
"WOT's growth proves that Internet threats are changing their shape and people are seeking new ways to protect their online experience. We are very happy to have Inventure and other investors on board", says Markus Suomi, CEO of WOT.
"WOT changes the Internet landscape and promotes trustworthiness for the benefit of all web users. It's a pleasure to work together with the company to enhance WOT's position as a globally acknowledged web reputation authority", says Timo Tirkkonen, partner of Inventure.
About Inventure
Inventure is a technology investor in early stage companies, actively supporting growth oriented entrepreneurs to internationalize Nordic success stories. Inventure's entrepreneur driven team works actively with the portfolio companies and brings their knowledge and network's support. Examples of Inventure's portfolio companies are e.g. Beneq, Conmio, Freespee, Thinglink, Rightware and Silex Microsystems.
About WOT Services
Web of Trust (WOT) is a community-powered browser add-on that helps web users find reliable websites. WOT uses an intuitive traffic-light rating system to help web users stay safe when they search, surf and shop online. Website ratings are crowd-sourced from a fast growing worldwide community of WOT users who have rated the reputation of nearly 39 million websites based on their experiences in terms of trustworthiness, vendor reliability, privacy and child safety. Community ratings are augmented with information from selected technical data services. The WOT add-on works with Firefox, Google Chrome, Internet Explorer, Opera and Safari and is a free download from