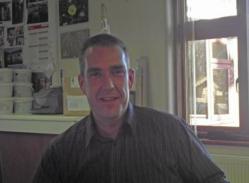 (PRWEB UK) 28 November 2012
Patrick Chapman recently joined the team at Q Lawns turf growers as Logistics Manager with the challenging task of improving the Company's delivery service across the whole range of soft landscaping products.
Products such as garden turf, Meadowmat wild flower matting and Enviromat green roofing materials are highly perishable and need to spend as short a time in transit as possible; nevertheless Q Lawns have long prided themselves on being able to provide a next day delivery service across most of the UK. However, rising fuel costs, an increased number of products and a bigger customer base, means that maintaining and improving such a high level of service is complex and expensive.
The Company's new Logistics Manager has plenty of experience in organising transport, not just in the horticultural and garden trades but also for urgently required products. Patrick has organised logistics for a large pharmaceutical company and, more recently for a shed manufacturer delivering large numbers of garden buildings on a daily basis to both trade and domestic customers.
As Logistics Manager for Q Lawns, Patrick will be liaising with customers, hauliers and product despatch managers to ensure that deliveries are as environmentally sensitive, timely, and cost effective as possible.
Chris Carr, Sales and Marketing Manager commented that "Q Lawns are approaching our 20 year anniversary of trading and the Company is flourishing. People like our products and they like what we do. With Patrick's help, we're aiming to lessen our impact on the environment even more; improve service to our landscapers and gardeners and make significant cost savings that can be passed on to our customers."
Patrick is based at Q Lawns office in Norfolk and can be contacted on 01842 828266 or email Patrick (at) qlawns (dot) co (dot) uk