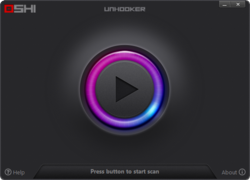 Oshi Unhooker is able to promptly identify and disable any malicious hooks, preventing them from further search/Google hijack and click redirect
(PRWEB) November 27, 2012
Thousands of PC users all over the world have to daily confront viruses, of which zero day malware is most harmful, since it cannot be detected by any antivirus software - the presence of malicious code in the system is masked by means of using stealth mechanisms. Even those PC users who are updating their anti-virus systems on regular basis are not secured against successful malware attacks. The problem with conventional anti-viruses lies in the fact that their effectiveness depends on signatures, which may not contain the latest versions of commercial 0day viruses. It is in this case that Oshi Unhooker can be an optimal solution to sustain a trouble-free operation of one's PC.
Oshi Unhooker is able to promptly identify and disable any malicious hooks, preventing them from further search/google hijack and click redirect. Its greatest advantage is its utmost simplicity – it does not require installation, it just searches, detects and neutralizes malware in just a couple of clicks.
It should also be mentioned that Oshi Unhooker is small, so it only takes several seconds to download it to one's PC. The fact that it supports 64-bit operating systems as well as Windows 8 only adds to its competitive position.
Another good thing about Oshi Unhooker is that its portable, so one can actually run it from USB-stick or use any other way of transporting and starting it on a PC. It does not require lengthy instructions either - in fact, it is basically intuitive and easy-to-use. Its attractive and user-friendly interface is also very helpful – all one needs to do is press the Scan button, after which the utility program starts scanning the system and reports all the threats and abnormal activities in the system.
There are various ways in which Oshi Unhooker can be useful to a PC user. It is pretty indispensable in a situation when there is no possibility to install a heavy anti-virus, but at the same time there are definite symptoms of a hijacker or any other malware active in the system. In this case Oshi Unhooker is an apt temporary solution, before you can get hold of an anti-virus.
Oshi Unhooker can also be used in tandem with a stationary antivirus. This will guarantee 100% virus-free operation, since Oshi Unhooker will make sure that zero day malware, unnoticed by the antivirus program, is disabled and cannot further block or harm the update and scan abilities of a PC.
Besides – and it naturally follows from the advantages of Oshi Unhooker listed above – this utility program can be use as a supportive tool to prepare the system affected by viruses for the anti-virus installation.
And the last – but not least – thing to mention about this new software products is that it is free to download on its developer website