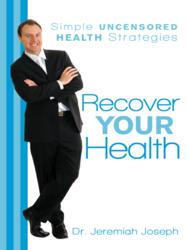 Vibrant health, life extension and an all-encompassing sense of well-being is well within reach.
Sarasota, Fla. (PRWEB) November 28, 2012
The secret to health and a long life has nothing to do with seeing a doctor.
"We need four things in order to survive: food, water, oxygen and nerve supply," says Dr. Jeremiah Joseph, speaker, author and chiropractic neurologist. "So many other things out are interfering with these simple factors, and they're robbing your body's potential of obtaining optimal health."
His new book Recover Your Health delves into these vital components and their effects on the body, offering a medically backed guide to helping readers:

Shed stubborn and unwanted pounds
Dramatically increase energy and vitality
Protect against cancer
Slow the aging process
Live a fuller, healthier and happier life
Dr. Joseph also reveals four easy-to-follow strategies, leading readers to restore their health, recover childlike energy, combat disease and enhance memory.
"The body has an amazing ability to heal, repair and regenerate itself from the day-to-day wear and tear, as long as nothing is interfering with its potential," Dr. Joseph said. "The secret to unleashing these powers lies not in tricking the body with chemicals or surgery but finding the underlying cause and removing the interference. Vibrant health, life extension and an all-encompassing sense of well-being is well within reach."
Recover Your Health
By Dr. Jeremiah Joseph
ISBN: 978-1-4525-4974-3
Paperback: $11.99
Available at amazon.com
About the author
Dr. Jeremiah Joseph is an acclaimed speaker, radio show host, author and educator specializing in functional medicine and chiropractic neurology. He has performed thousands of lectures to hospitals, churches, corporations and foundations throughout the state of Florida and across the country. His love for his patients shaped his Florida healthcare centers and encouraged him to develop the attainable four-step methods in Recover Your Health. Dr. Joseph resides in Englewood, Fla. with his wife, also a doctor, and son.
# # #