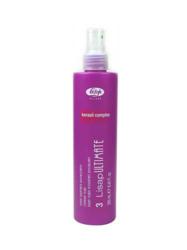 (PRWEB UK) 27 November 2012
Hairtrade.com, the UK's leading retailer of hair extensions, hair care and beauty products has added Lisap Ultimate to its growing hair care range.
Lisap has been a worldwide success for over fifty years, bringing health and shine to hair with the most unique products and the popular range is now available at hairtrade.com.
After a successful year for hair care at Hairtrade.com, the online retailer has expanded its product range to include more specialised lines, in particular products designed for hair straightening.
The new Lisap collection consists of three cult products including Lisap Ultimate Plus Shampoo, Lisap Ultimate Straight Fluid and Lisap Ultimate Straight Fluid Plus.
Lisap Ultimate Plus Shampoo is a specific treatment for straight and curly hair. When used before Lisap Ultimate Plus it relaxes the hair fibre, giving to more volume and making it easier to comb. Due the Kerasil Complex, Keratin and A2 Ceramide, it restructures and strengthens the hair, reducing waviness so that hair is left silky, under control and moisturised for longer. It is applied to damp hair and scalp and massaged in.
It can then be followed with Lisap Ultimate Straight Fluid which is a temporary keratin treatment that restructures the hair and protects it from heat. It is formulated with ingredients that are extremely heat resistant, which strengthen and protect the hair when straightening. Containing keratin, new generation silicon and cationic conditioners to guarantee exceptional hair protection and shine, the Ultimate Straight Fluid can be used as an after treatment.
And finally, Lisap Ultimate Straight Fluid Plus has the unique extra benefit of Keratin and Ceramide A2, which helps transform and restructure the hair. It is the perfect choice for lasting blow dry styles as it contains a special formula to give heat protection and also soothes, reduces frizz, and protects the hair from humidity. It can be used by distributing evenly on dried hair before straightening.
Commenting on the recent addition, Keven Kou, Managing Director at Hairtrade said "We are thrilled to stock Lisap Ultimate at Hairtrade. It's formula make it the ideal product for those seeking hair straightening routines as it is created with Keratin and Kerasil complex. It also has the added benefit of a heat protector which is essential for anyone who uses heat tools to style their hair."
The Lisap Ultimate range is available now at hairtrade.com with prices starting from £7.99.
About I&K International Limited:
Established in 2005, I&K International Limited is now one of the leading distributors of online hair care and beauty products across the UK and Europe. Hairtrade provides a wide range of hair extensions, hair care products and hair electrical brands.
Hairtrade provide a wide range of 100% human hair extensions mainly, human hair weaves, I&K clip in Hair Extensions and pre-bonded hair and European hair extensions. Among its top brands are I&K 100% Human Hair and Remy Hair, Top Model and Jessica Simpson hair. In addition to its 100% human hair extensions the company also provides synthetic hair extensions, wigs, hairpieces, hair extensions accessories and tools, as well as an extensive range of hair care products from brands such as Tigi, Loreal, Schwarzkopf, Goldwell, Matrix, Fudge, Keune, Sexy Hair and many more.