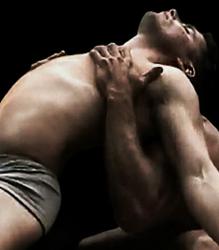 Tantra means weaving and expansion in the Ancient Sanskrit language. It is the process of integrating all aspects of a person; expanding energy, awareness and intention to become a whole being who is in tune with his mind, body and soul.
New York City, NY (PRWEB) November 27, 2012
Joschi Schwarz, founder of Le Male Yoga in New York City, designed Tantric Yogassage for Men to develop the senses, unblock energy and expand awareness by opening and aligning the chakras (spinning wheels of energy) and untangling and harmonizing the nadis (astral pathways). The one-of-a-kind hands-on and clothes-off workshop helps men raise awareness of their bodies, feel the flow of energy, learn how to relax into the moment, detoxify mental constructs and build stronger connections.
Ideal for stress relieve during the Holiday Season, Schwarz now brings this sensual experience to groups of men in a workshop format after having taught Tantric Yogassage in private settings for years. His mission is to create a warm, laid-back atmosphere with a communal feel. 'Experiences like this are far and few between in NYC, where the emphasis tends to be 'Me, Me, Me' says Schwarz. Fostering an environment that nurtures a unified 'Us' is what inspired the male-only group.
The workshops lay down the foundation for a path of ecstatic living with Tantric touch and Tantric yoga.
Le Male Yoga's monthly Tantric Yogassage workshops include interactive elements such as eye contact, communication, breath awareness and energy movement along with touch. By weaving active and passive elements into Tantric Yogassage, men's erotic potential is stimulated and awakened. This process allows a person to better access and tap into their innate intelligence, creativity, natural healing ability and strength.
Relax into the waves of life, surrender the mind and become open to the possibilities that exist everywhere and in every moment with the sensuality and pleasure of Tantric Yogassage for Men. Join Joschi Schwarz for the first Tantric Yogassage Workshop on Tuesday, December 11, 2012 at 7:40pm.
About Joschi Le Male Yoga
Le Male Yoga is for men who aim to initiate a lifestyle that liberates, expands and energizes.
At Le Male Yoga we practice Tantra and Vinyasa Yoga to give fit, healthy and in-shape men a unique opportunity to recharge their body, update their mindset and celebrate life.
Le Male Yoga offers Power Flow Yoga for a high-heat, high-energy workout, Tantric Yoga to tap into men's sexual core energy and Yogassage to enhance men's body's erotic potential.
Le Male Yoga provides a welcoming and real community for all men - gay, straight or bisexual - who enjoy fitness, communal bonding, socializing & having fun in a safe and judgment-free atmosphere.
Whether you are a beginner, advanced practitioner or somewhere in between... LMY offers something for every man.
Le Male Yoga offers one-of-a kind classes, workshops and retreats in New York City. As an experienced and internationally recognized Yoga Alliance Registered School we lead Yoga Teacher Training Programs in New York City and around the world.